CivicSpace has announced the ALPHA of their hosted service. This includes CiviCRM 1.3. Please consider helping them out by signing up to be an alpha tester. From Zack:
The service will be similiar to Drupal hosting offered by Bryght but will provide the CivicSpace 0.8.3 Drupal distribution. In the future we hope to launch the ASP publicly as a low cost service for the non-profit & advocacy sector, but for now we are looking for a few brave CivicSpace community members to help us test it. Please fill out the form if you are interested in participating and we will be in contact with you shortly.
http://civicspacelabs.org/home/asp-alpha-test
Functional and contact-level access control is now implemented on the sandbox.
User access overview
describes the permissioning options. Logins and User Roles Some 'example roles' have been setup on this sandbox. You can use the logins below to try them out: Role: CiviCRM Admin Login: crmadmin demo Role: Team Lead Login: teamlead demo Role: Volunteer login: volunteer demo Current Sandbox Access Control This is a snapshot of the current access control setup for the sandbox. Notice that for each 'Group' there is an 'edit' and a 'view' permission (edit encompasses view). There is also an 'edit' and 'view' permission for the Saved Search - 'Major Donors-California'.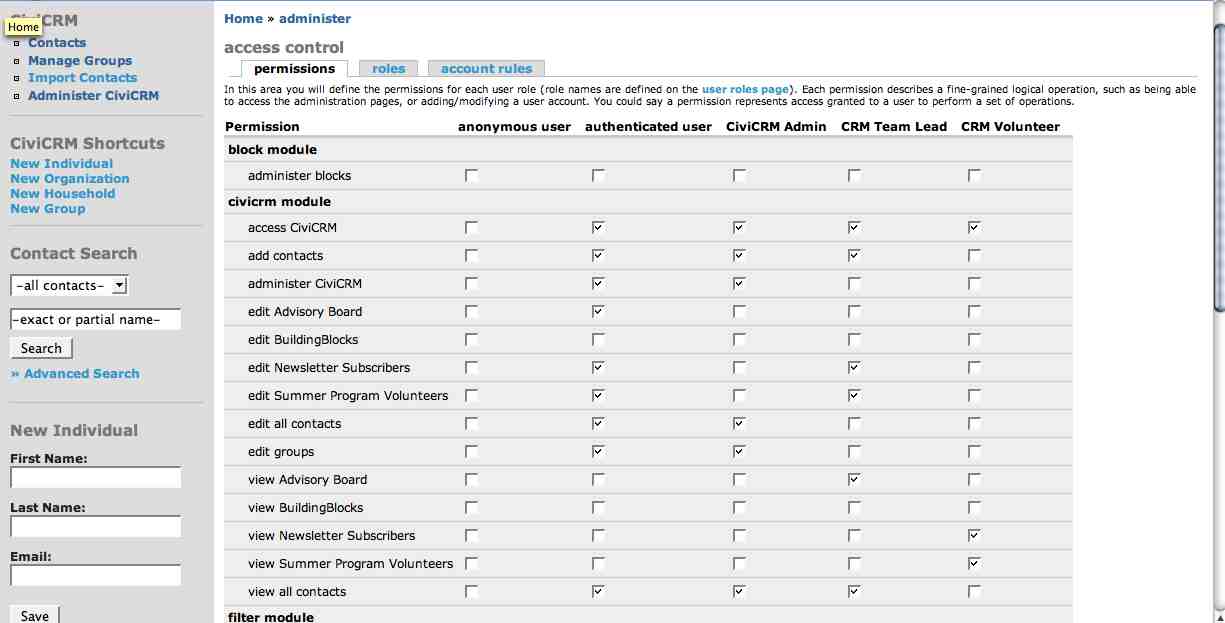 CiviCRM has a lot of details under the covers that people might miss. One such feature is a simple Google Maps integration. From the contact list, select one or more contacts. From the drop down actions menu, select "Map Contacts using Google Maps" and click the go button.