Published
2014-10-17 14:33
You know what they say… there are only two certainties in life - death and taxes. Well, we've been working to teach Civi to help make the latter a bit easier. We're very pleased to announce that Web Access and core team have collaborated to ensure that CiviCRM 4.6 will fully support Sales Tax ( VAT). As of the conclusion of the Edale London sprint we've merged this functionality into the master branch.

Not only will CiviCRM understand Sales Tax, it can actually allow users generate Sales Tax invoices right in the back office. This will eliminate the need to track invoices separately in your accounting software and manually upload transaction data.
Key Features
Fully supports percentage-based sales tax
Each line item can be subject to a different sales tax percentage
Sales Tax amounts are automatically applied to a Sales tax creditor account
Supported: Events, Contributions, Memberships including price sets
Create Sales Tax Invoices and Credit Notes
Search actions will allow tax invoices to be emailed/downloaded in bulk
Ability to make billing block required or optional for pay later option
How are variable tax rates handled?
Variable tax rates can be configured by creating separate "Financial Accounts" for each. We modified core to use "Is Tax?", the financial account type must be "Liability" and will require that a "Tax Rate" be specified. Tax exemption is supported by setting the percentage tax rate to 0%. Then create "Financial Type" and link it to above financial accounts.

For more details: https://issues.civicrm.org/jira/browse/CRM-15409
Screenshots
Financial Accounts Configuration.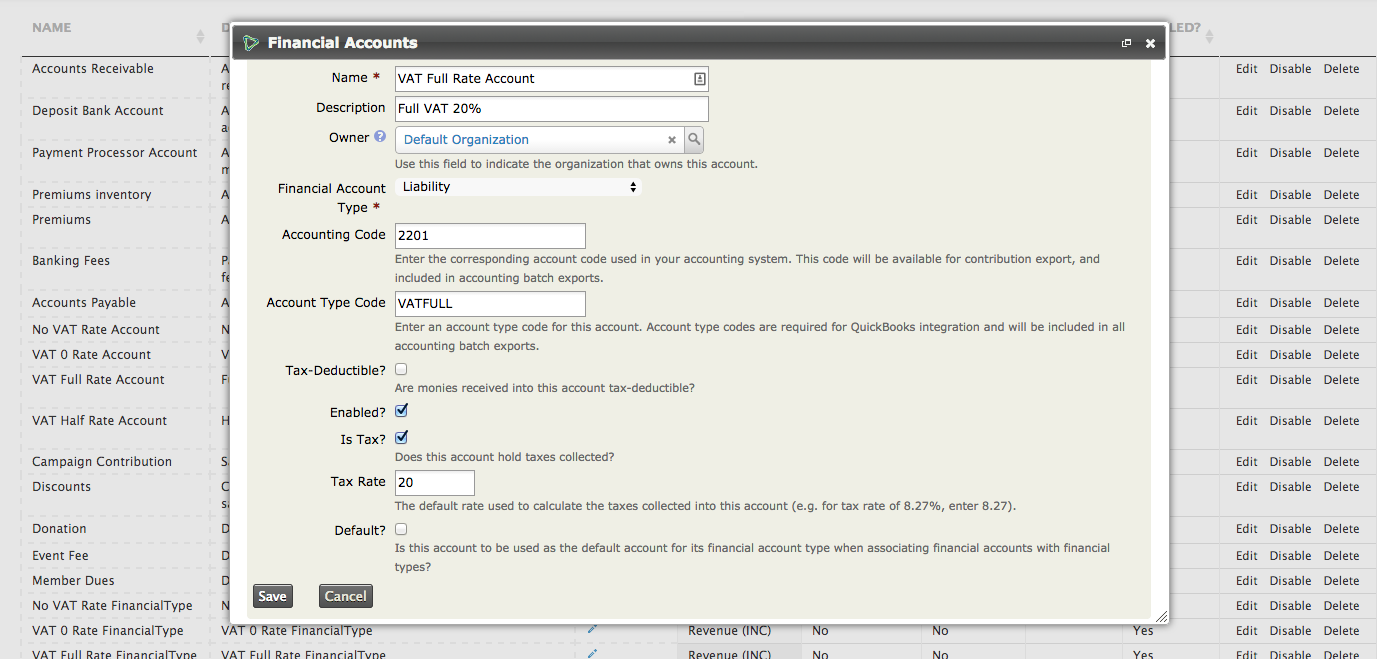 Create Financial Type.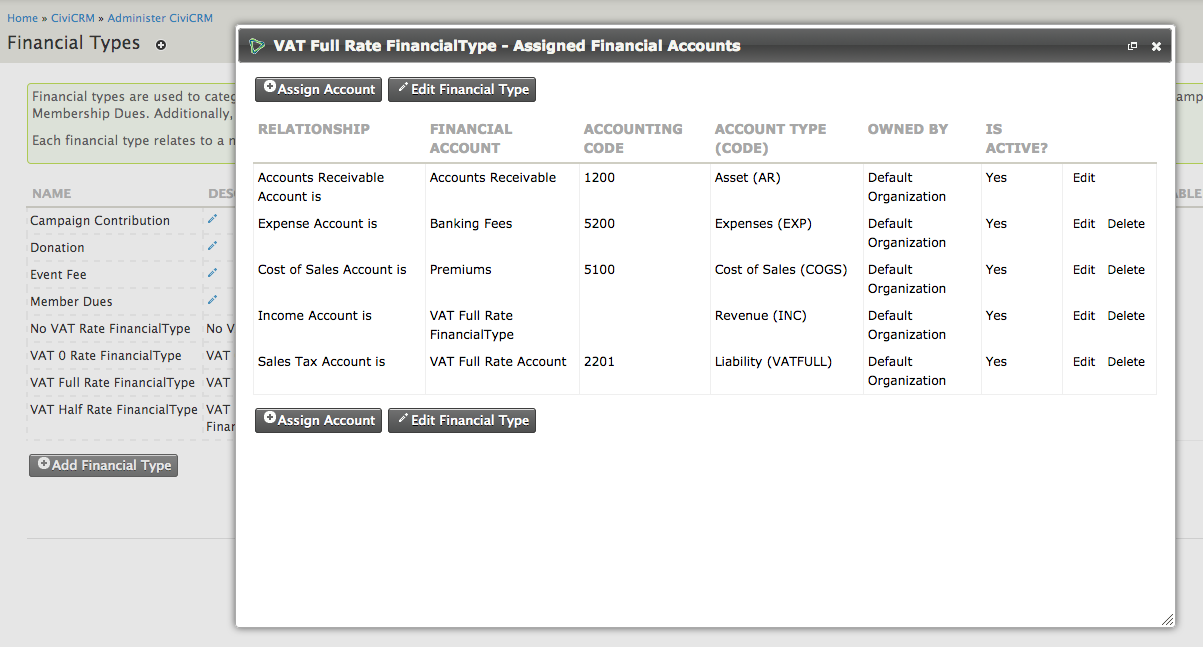 View Contributions with Sales Tax.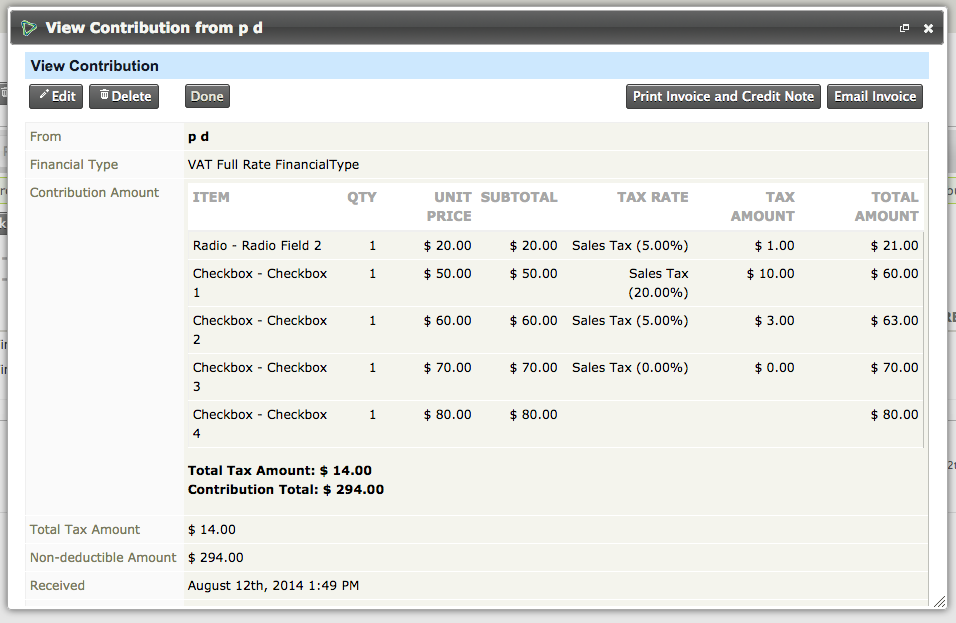 Contribution Page.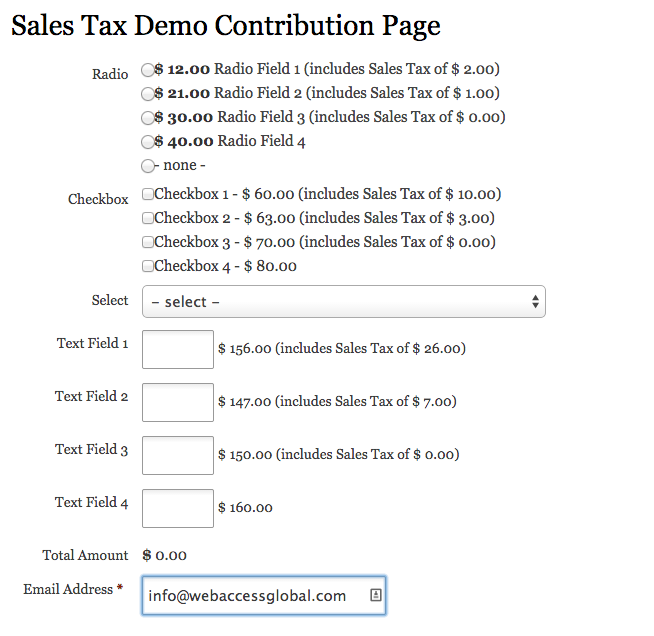 Event Registration Page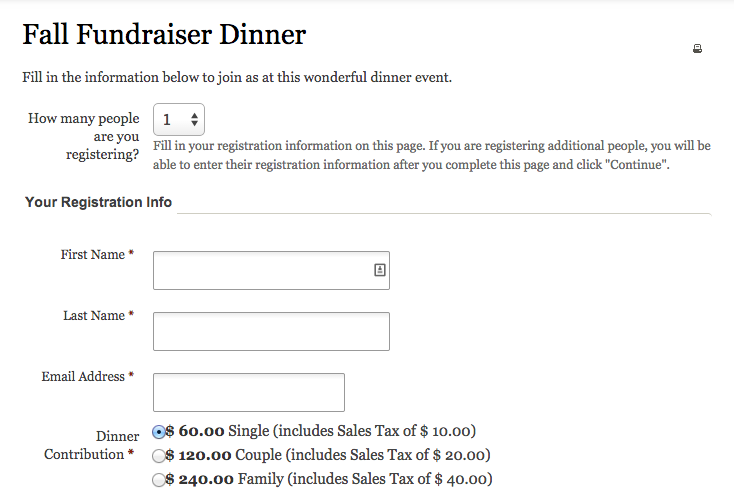 Tax Invoice.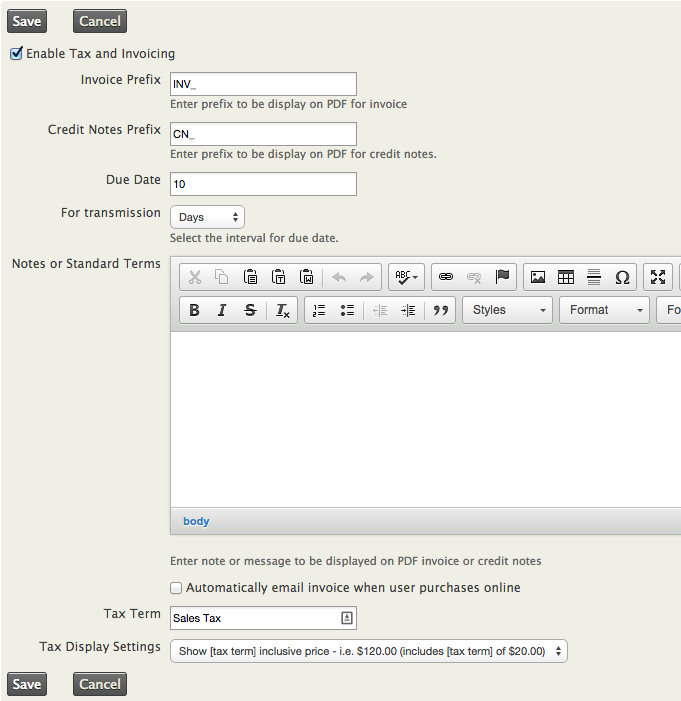 We need your help!
Please test Sales Tax functionality on CiviCRM sandbox: http://dmaster.demo.civicrm.org
Special Thanks
We would like to thank Jamie Novick for his contributions to the wiki and assistance in planning and testing this functionality. We would also like to thank Joe Murray who was a consultant on the project.
Comments
As a US non-profit, we don't have to deal with sales tax or VAT.  But we DO need an invoicing solution.  Is this extension specific to VAT/tax needs, or could it be used for generic invoicing as well?
Rob
Rob,
We have done work separately on invoicing for another client. I don't think we've had a chance to submit it yet, but shoot me an email and I can send you what I have.
Tony
Rob - You can use the invoice functionality w/o the Sales Tax piece - although it looks like you'll need to modify the defaut Invoice message template a bit to remove 'tax' terminology. You can play with this a bit on the 4.6 sandbox:
http://dmaster.demo.civicrm.org
The functionality is enabled from Administer > CiviContrbute > Component Settings
Invoices can be printed or emailed from Find Contributions actions or when viewing a contribution.
We have not done a full internal QA yet though so expect some 'bumps in the road'.
Hi all,
Testing this functionality on the demo (4.6.4 on Drupal)  If I understand correctly a Financial type needs to be setup for each rate. So if there are 2 tax rates, 2 new financial types need to be setup. Couple of questions in the scenerio of 2 tax rates:
1) It seems a price set must be used, since different financial types can only be used there, correct?
2) Please provide the steps to get the Contribution with Sales tax screenshot above. When I view the contribution, I don't see the sales tax column.
In general, this type of question is best posted on StackExchange.
RE: 1: Yes, if 2 tax rates on portions of a set of event fees - must use a price set.
RE: 2: I just tried this on 4.6 public demo and Tax line item shows as expected for non-price set contribution. while the columns above show for contribution related to price set event.

Is there a plan to modify the CiviCRM reports, for example the Bookkeeping report, to display the base price, tax amount and the total?