Headline:
CiviCRM, Google Maps, and front end editing-in-place
Organization Location:
63301
St. Charles
,
MO
United States
Missouri US
Kind of Organization:
Assocation
Educational
Non Profit
Religious
Please describe the organization and summarize how this project successfully met their needs:
The Network of Sacred Heart Schools is an association of Catholic independent schools and the U.S. Province of the Society of the Sacred Heart. The integration of CiviCRM deeply into their new website helps keep their contact data current with much less effort on their part, as well as updating their publically facing maps and information on-the-fly and streamlining event management for conferences they hold.
What issues does the organization focus on (check all that apply):
Features Deployed:
Association Member Management
Constituent Contact Management
Events
Reporting
What was the initial promise of this project?:
In our initial discussions about revamping the site, we indicated that the new site could be much more dynamic, so that maps could be generated from live data, users could update their own information, and events could be managed in a more cohesive and integrated way.
What was the biggest challenge facing this project?:
There were a number of challenges.
For example, while we started out with a simpler vision of having more in depth information and features for the U.S. schools (which are in the Network), as the project progressed, staff at the Network changed course and indicated that they would actually like to have all the features available to all of the international schools as well. We revised our custom module to expand functionality and make things more flexible for them.
Another challenge was the desire for administrators (and in the future, designated school contacts) to be able to edit many contacts at once, preferably without having to learn a new CiviCRM interface on top of the other new website changes.
Why was civiCRM chosen as the solution? Were other CRMs evaluated?:
We considered a few other options, such as whether they wanted to continue taking registrations for their conferences using embedded Google forms that fed into a spreadsheet, but we decided on CiviCRM early on because of its deep integration with Drupal and the ability to use the data in so many places without having to duplicate effort and the ease of updating the information.
Who made up the project team? (including client personnel, your personnel, third parties)::
What site functionality was key to the project?:
Key site functionality was to integrate maps that update automatically based on school data stored in CiviCRM, as well as the ability to register participants for conferences and meetings and take custom data at registration. Ideally they wanted a designated school contact to be able to update public contact information for staff at their school as well.
What modifications and modules were deployed?:
We configured CiviCRM custom data fields as needed and made use of the wonderful Webform CiviCRM module to allow easy customization of forms and registrations while still tying into CiviCRM.
We wrote a custom module to handle the maps integration at a variety of levels: world, country, and school. It also incorporates the Jeditable jQuery plugin with the CiviCRM API (v3) to allow admins to edit school and public school staff contact information directly on the front end.
What were the server & hosting requirements?:
The site is hosted on a VPS to allow access to enough RAM and CPU for the site to function.
What did the CiviCRM community gain from this project? What features were incorporated back into CiviCRM (if applicable)::
Most of what we needed to customize was fairly specific to our use-case, but the integration of the jEditable plugin with the API is a valuable proof-of-concept for particular cases where it makes sense to prevent specific users from having to go through the standard CiviCRM editing interface. We would be happy to share some details of how we did it if others are interested.
Organization Logo:

Project images: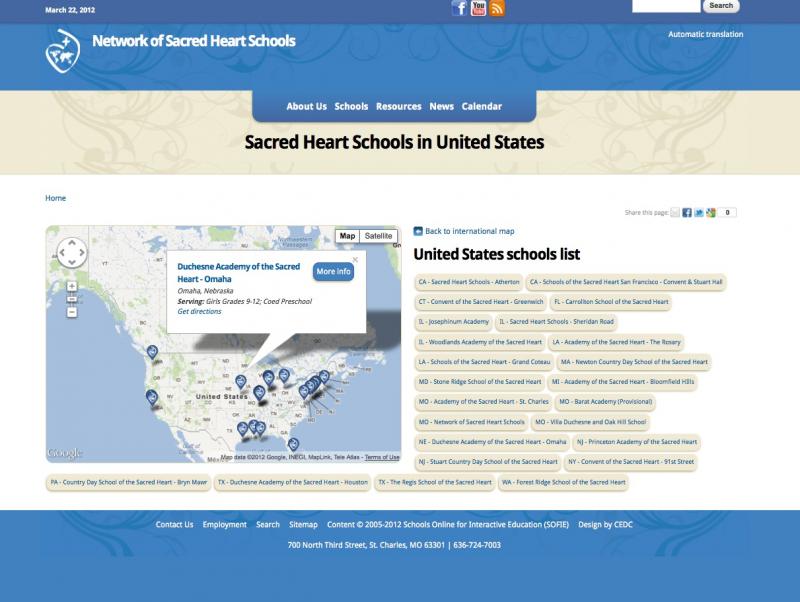 For more on the success of this organization, visit (enter URL):
http://cedc.org/design/sofieorg
For more information on the development team, visit (enter URL):
http://cedc.org/tag/civicrm