Just two clicks: Complicated reports made easy with CiviCRM
Heart's Home USA
Heart's Home USA is an international Catholic organization which fosters a culture of compassion at centers in 22 countries and across five continents. Their global network is comprised of volunteers who serve as missionaries to the disadvantaged and socially isolated. The accessibility of information for their staff, provided via CiviCRM, has been a huge improvement for the organization. Before, when a staff member needed to know details about a certain donor, they would need to contact the staff person in charge of the database to get that information. Now all staff members can quickly access the contact information and view all of the activities related to that contact: the complete history of the emails sent, events attended, phone conversations, etc. There is no longer the need to keep a paper trail, since the activities are automatically recorded in the contact's history. This is especially important when sending receipts to donors, since this process has been automated. There has also been a reduction in the amount of manual data entry done in the office thus saving time for more meaningful tasks.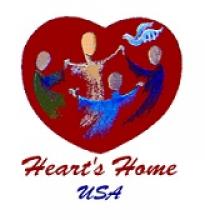 Background
Heart's Home needed a secure and central location to store the names of contacts, or in their case, "benefactors", and an efficient way to keep them updated. They were using an outdated database, along with Excel spreadsheets, and were not very happy with that solution for several reasons. The main problem was that all the data was stored on one computer and several staff members needed to access it; often at the same time. It also took several hours of time each month to prepare reports from Excel that were sent to volunteer missionaries. Heart's Home wanted a system that would link their benefactors with their volunteer missionaries and manage recurring donations. Other key areas that needed improvement were keeping better track of event attendees to send follow up emails and maintaining a history of who had already been contacted. Finally, they wanted to reduce the amount of time spent by staff on data entry.
Challenges
The more complex functions such as setting up event pages and managing the contributions page are not intuitive. They  had very specific needs and there was quite a bit of customization that needed to take place in the beginning with the contribution page. Heart's Home needed to have the names of current missionaries listed on the page so that sponsors could choose a missionary from that list so some custom development was needed to make this possible.
Solution
Each of their volunteer missionaries has three types of sponsors: prayer sponsors, sponsors who provide a onetime donation and those who give monthly donations. This information needs to be consolidated into one report that is periodically sent to each missionary. Before using CiviCRM, the staff would have to merge three different Excel spreadsheets into one to create these reports, a process that took several hours each month. CiviCRM was customized to fit the unique configuration needs of their organization. A customized report template was created in CiviCRM that streamlined this process and it can now be completed now with just two clicks.
Functionality
It's hard to narrow down to just one! Heart's Home uses groups, smart groups and tags quite a bit to track and segment their benefactors and donors. The groups allow them to manage their profiles and to send thank you notes and tax receipts automatically, by email or by generating a PDF file for those sent through the mail. The tags allow them to categorize the contacts and to export data based on these categories. They also use tags to track who attended events and to contact them for specific upcoming events. The on-line registration page saves a lot of data-entry time for the staff and allows them to have more information about event attendees since they enter the details themselves. Additionally, the campaign function was used to celebrate their 10th anniversary in the US.
Cividesk provides affordable CiviCRM services for nonprofit organizations including implementation, training, data import, hosting, maintenance and support. We are headquartered in Denver, CO but also have a presence in India in order to best support our customers in various time zones and to answer our customer's needs for software development and customizations.
Cividesk was founded in 2011 on the premises that CiviCRM users will need on-going support and knowledge of best practices to fully realize the potential of this incredibly rich software. Over the years, Cividesk has grown to become one of the leading Software-as-a-Service providers for CiviCRM. We have customers in more than 25 countries or states around the world, spanning all types of nonprofit organizations – charitable, humanitarian, advocacy, religious, political, governmental and trade-oriented.
We provide you with a fully configured CiviCRM, take care of all the technology behind the scenes, and are always available to answer any questions you might have. No surprises. Hosting, maintenance, mentoring and unlimited customer support are bundled into a fixed monthly subscription so you can budget your expenses in advance.