Published
2020-01-26 05:29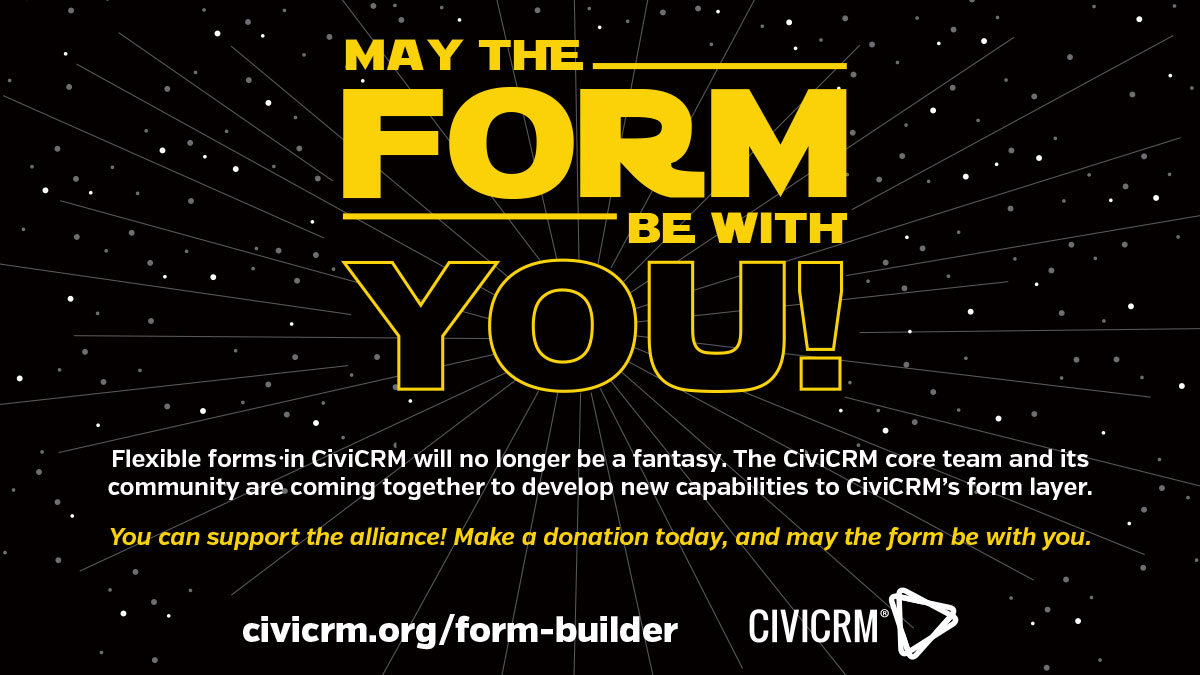 With the alpha release of a GUI, the CiviCRM Core Team delivered a stunning blow the Galactic forces of inflexibility. Work continues in 2020 to build upon this success, with plans to expand Form Builder across new entities such as Cases and Events, to replace core screens such as the 'Add/Edit Contact' and to release a stable, powerful extension so that users can begin to fully realize the power of the Form Builder.
Let by two young Jedis, Tim Otten and Coleman Watts, Form Builder brings a new hope for CiviCRM. Join the rebellion today by making a donation to Form Builder. And may the form be with you!
About Form Builder
Long identified as a key piece of functionality, the native form builder made it officially to the roadmap in 2015. A lot of design work has gone into Form Builder already, resulting in a working albeit 'not pretty' prototype. Work on Form Builder for the remainder of the year will focus on implementing a drag and drop interface as well as a stable, useable extension. 
Form Builder is a big undertaking with even bigger implications, and will revolutionize CiviCRM's capability to build and manage online forms. Progress will be released incrementally over time, and support for this initiative will be needed on an ongoing basis.
Like all major pieces of functionality, this form builder will not happen without a significant community investment. If you have questions or wish to make a pledge, contact Josh at josh@civicrm.org.
Form Builder - Episode II: A New Push - Backers
The release of the alpha GUI extension is here because to the following supports. Huge thanks to you for supporting Form Builder!
Ayyoub Ajmi
Josh Gowans
Camp Cooinda Inc.
Ruta Civica
Rigpa Fellowship
Mike Parsons
Academic Games League of America
Keith Nunn
National Democratic Institute
Greenpeace in Zentral-und Osteuropa
Third Sun Productions
Craig Luchtefeld
Form Builder - Episode I: Prototype - Backers
Form Builder is where it is today thanks to those that made the investment in an initial prototype. Huge thanks to you for supporting Form Builder!
Kingston Chamber Music Festival
Eileen McNaughton
Iantha Scheiwe
Concordia Welfare & Education Foundation
Delmonico, Betsy
Romdahl, Paal Joachim
Camp Cooinda
Chabad Suite
Gowans, Joshua
Walpole, Benjamin
Tisza, Gergo
Gleeson, Jack
Toolan, Charlotte
Western Friend
Academic Games League of America
Van Der Giessen, Elijah
Woodward, Matt
Ajmi, Ayyoub
Faitout, Boris
West, Andrew