At its most basic, this extension uses Attentive.ly to retrieve accounts for contacts by matching their email against over 100 social media sites, including Twitter, Facebook, LinkedIn and Google+. It also allows searches to be made for keywords in their posts to these accounts, looks up Klout scores to determine how influential your contacts are on social media to assist in segmenting and targeting your engagement efforts, and displays an image of your contact if one is available from gravatar, Facebook, or LinkedIn.
In CiviCRM, a new Social Media tab is added to the Contact Summary page: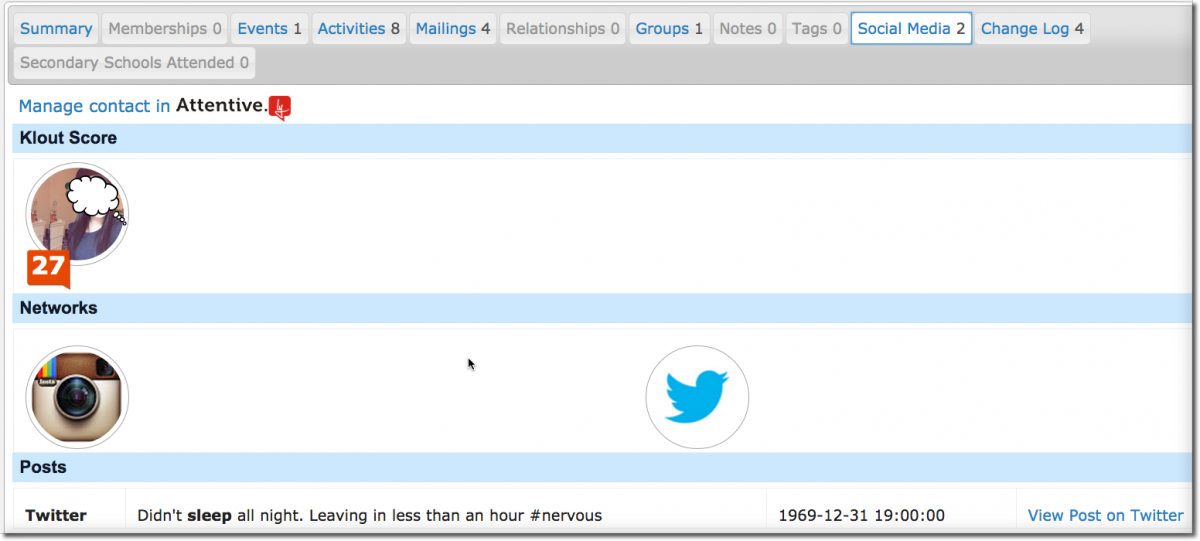 http://Attentive.ly provides significant value as a social media monitoring and engagement platform beyond this. It identifies trending terms in social media for your contacts, facilitates manually or automatically following back someone who follows the institution, retweeting a mention or liking a post that includes a campaign hashtag. It also provides recommendations for actions.
Attentive.ly is a paid service that is oriented to larger installations. The minimum recommended number of contacts is about 25,000 - 50,000.
Development Status
Stable
Installable through CiviCRM's user interface?
No