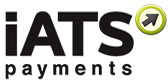 This iATS Payments extension as of 1.7.x provides payment processors for iATS Payments 1stPay as well as for iATS Payments Legacy Services. You can install only the ones you need. The payment processors available are:
iATS Payments 1stPay CreditCard
iATS Payments 1stPay ACH
iATS Payments Credit Card (legacy)
iATS Payments ACH/EFT (for North America) (legacy)
iATS Payments Credit Card SWIPE (legacy)
Installation OF EXTENSION
Navigate to Administer -> System Settings -> Extensions screen. Find the iATS Payments extension and hit Install on it. 
PAYMENT PROCESSOR CONFIGURATION
Navigate to Administer -> CiviContribute -> Payment Processors and hit the Add Payment Processor button
For Payment Processors of type 1st Pay -> login to your 1stPay gateway account and then navigate to: Security Settings -> Gateway Options -> is where you'll find the credentials you need: Transcenter ID, Processor ID and Merchant Key. Copy/Paste them all from your 1stPay gateway account into the matching fields when creating your CiviCRM Payment Processor.
For Payment Processors of type Legacy -> type your Agent Code as well as your Password into the correct fields when creating your CiviCRM Payment Processor.
SPECIAL FEATURES
Recurring transactions and tokenization - The extension implements recurring contributions with the use of 'tokens' so that the recurring payments can be managed from CiviCRM. This method allows for easy updating of the amount and number of the recurring contributions, while maintaining security by not storing any credit card data on the civicrm server. To use recurring payments, you need to enable the corresponding Scheduled Job (Administration -> System Settings).
The 1stPay payment processors use a so called cryptogram which means Credit Card and ACH/EFT details never touch your site (reduced PCI Compliance Scope).
iATS Fraud Tools - This extension will help you take full advantage of iATS fraud tools that come free with your iATS account and CiviCRM extension. Details of these fraud tools are available here: http://home.iatspayments.com/videos/iats-portal-fraud-prevention-tools
Custom Status Page - The extension provides a useful iATS status page within CiviCRM that will show you details of the most recent transactions and allow you to search for transactions based on names and/or the four last digits of the credit card.
Reconciliation Reports - The extension provides a report to assist admins with reconciliation (reports pulled from either 1st American or from Legacy are joined with CiviCRM Contributions matching on invoice id).
Recurring Contributions Report - The extension provides an enhanced report to view Recurring Series, and the Contributions that they have generated thus far at a glance.
Status Notes
The first non-beta release of this extension was April 3 2014. The latest release (November 18 2019) has been thoroughly tested on CiviCRM 5.19.x
For this Extension to work properly (generate recurring contributions, verify ACH/EFT and pull in reports) you must have the Extension's scheduled jobs enabled and must be running cron to trigger them. 
Git URL:
https://github.com/iATSPayments/com.iatspayments.civicrm.git