Published
2018-01-11 04:18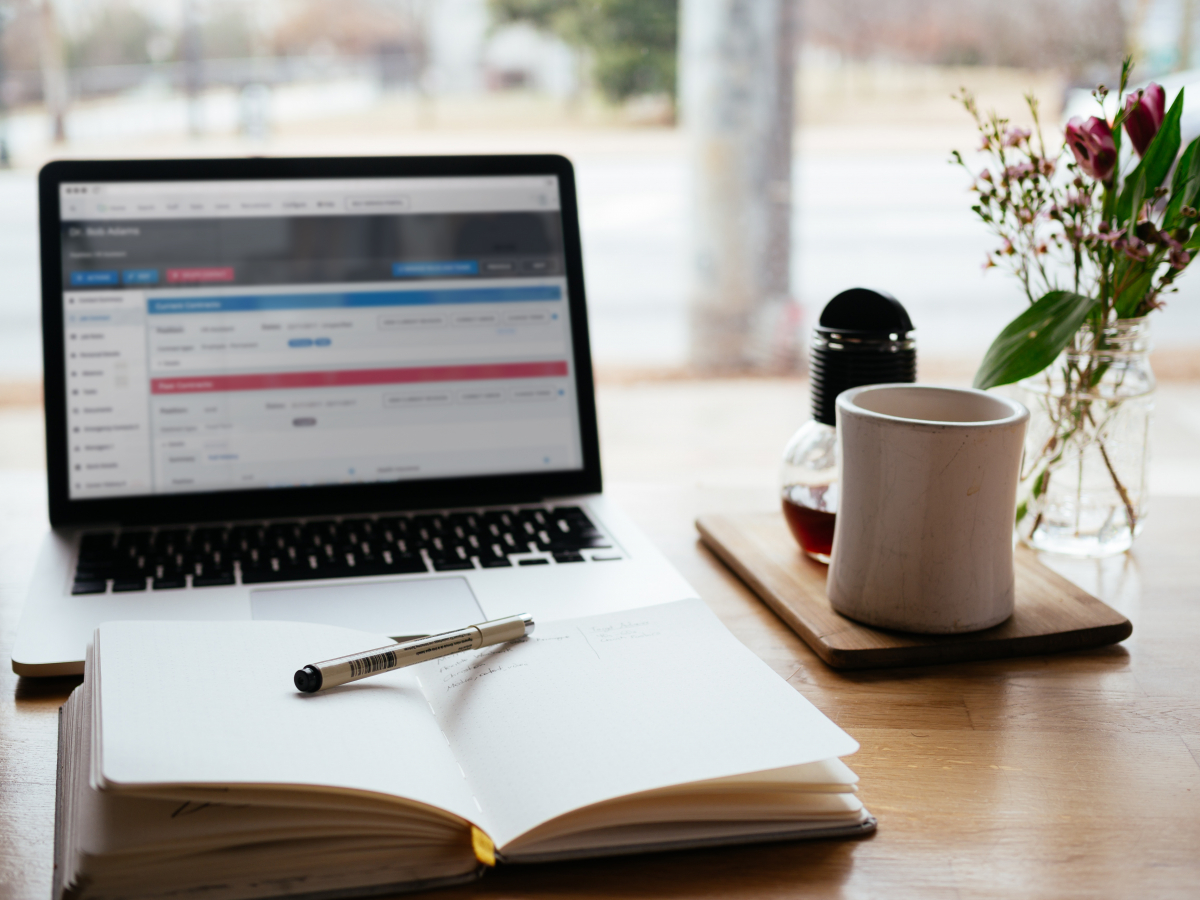 Howdy folks,
It's been a (long) long while since we last blogged about CiviHR here on the CiviCRM news feed, but 2017 has been a transformative year for the project and I'm really excited to share an update on where CiviHR has got to and where we are heading in 2018.
What is CiviHR?
For those who maybe don't have the longest memories (or perhaps have been living under a rock for a while!) CiviHR is a project to create a fully featured Human Resource (HR) management system based on top of CiviCRM and Drupal. It operates best as a separate installation to your CiviCRM install (as we hi-jack a lot of CiviCRM's features) and can be self hosted or you are able to sign up for the hosted version on
http://civihr.org
*.
*CiviHR.org is a subsidised hosting platform for CiviHR. Hosting is currently free whilst we are in public beta, but we will be planning to charge £1 per user per month from around the End of June 2018.
2017
During 2017 a huge amount of work went into CiviHR, with a completely new "Leave" module going live, the new "Shoreditch" theme (user interface) and menu being rolled out, updates to the Tasks and Documents modules and more detailed and easier to use Reporting. We've also added a helpful onboarding wizard for new new staff members to introduce them to the self service portal and add their details when they first join your team.
There's now over 50 organisations signed up on CiviHR.org, giving regular feedback as we work to continually develop and improve the system and we would welcome anyone who is looking for a flexible and easy to use HR system for their non-profit.
What does CiviHR currently do?
The system currently consists of the following modules:
1. Staff profiles: store key details such as job contracts, emergency contacts, and right to work. Update job contracts to reflect a recent pay rise or search through the history of past revisions.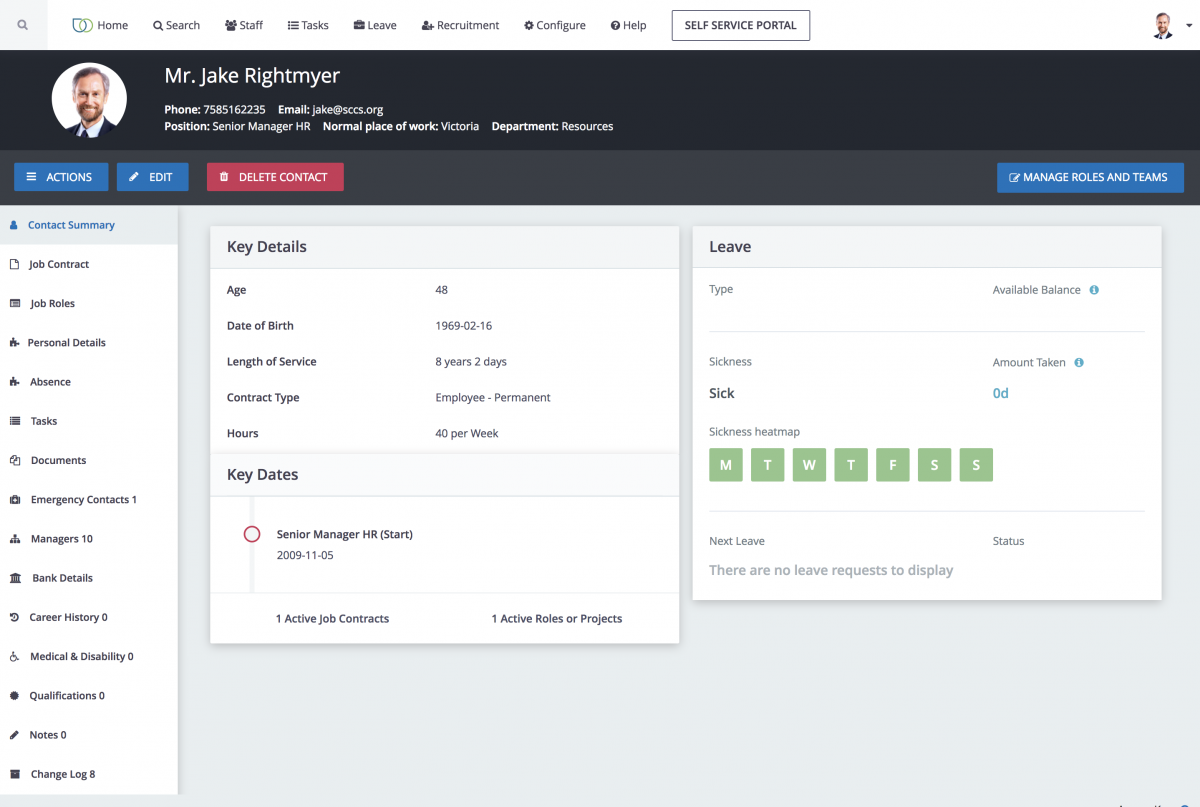 2. Leave management: staff can request leave, sickness and overtime and use TOIL and managers can approve online. Flexible working patterns are supported as is leave in hours. CiviHR also helps you to calculate the leave balance with carry forward from one year to another. CiviHR's leave module is comparable to most enterprise leave management solutions.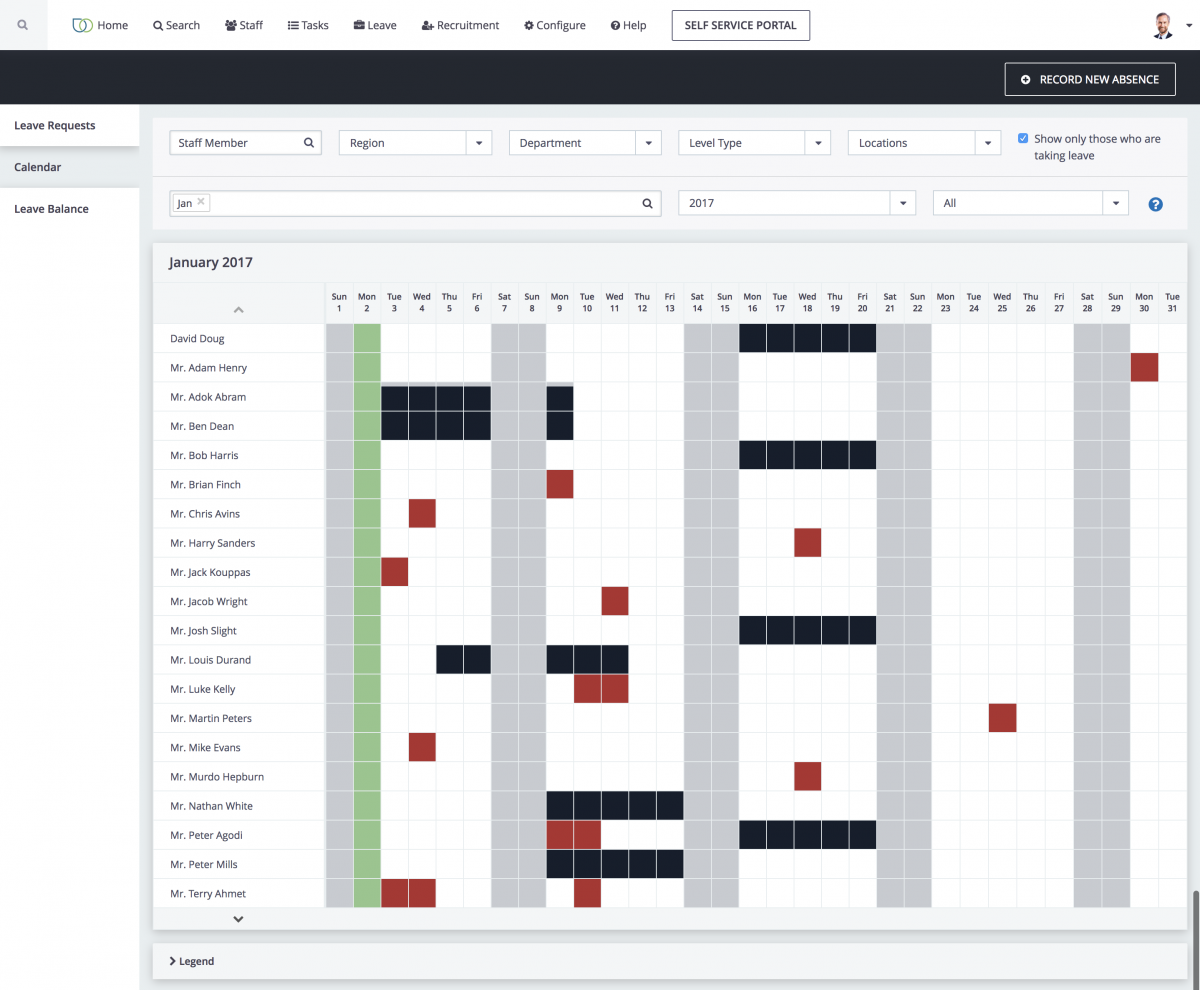 Tasks & Workflows: define your own workflows as a series of individual tasks. Set due dates on each one, and assign them to the relevant managers. Track progress through the dashboard so you can make sure that everything is finished on time.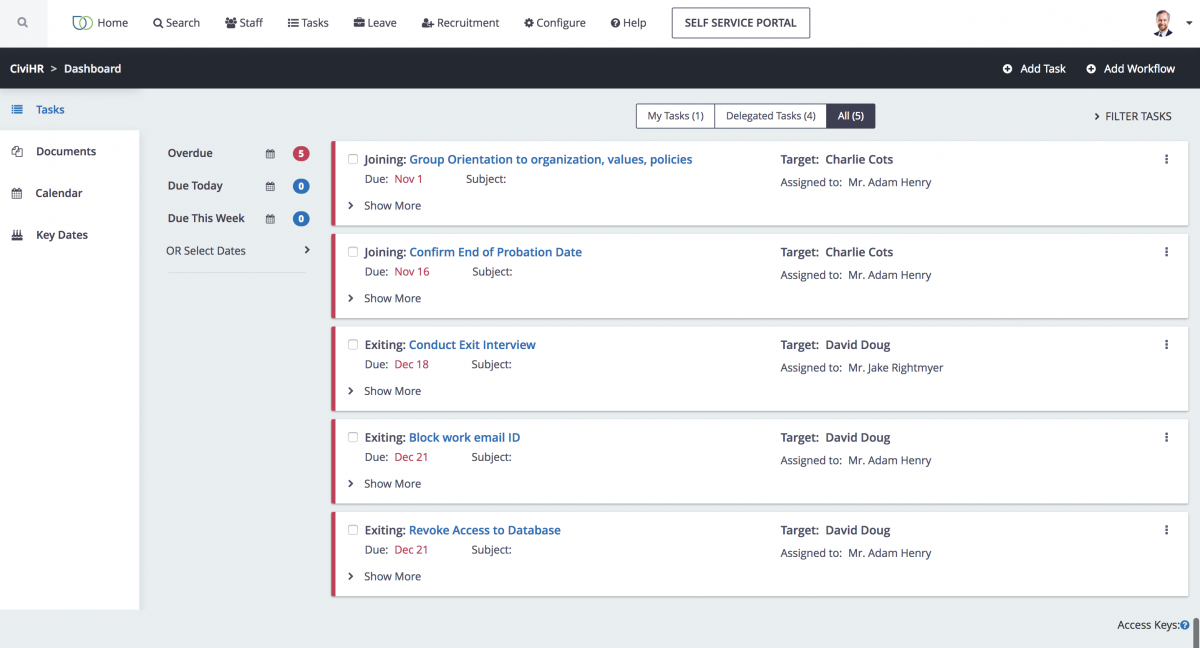 Reporting: choose from a list of standard reports or create your own interactive tables and charts using our drag and drop pivot table reporting.
Self Service Portal: staff can log in to the Self Service Portal at anytime, from any location, and on any device to request leave, update their details, download HR policy documents and browse the staff directory.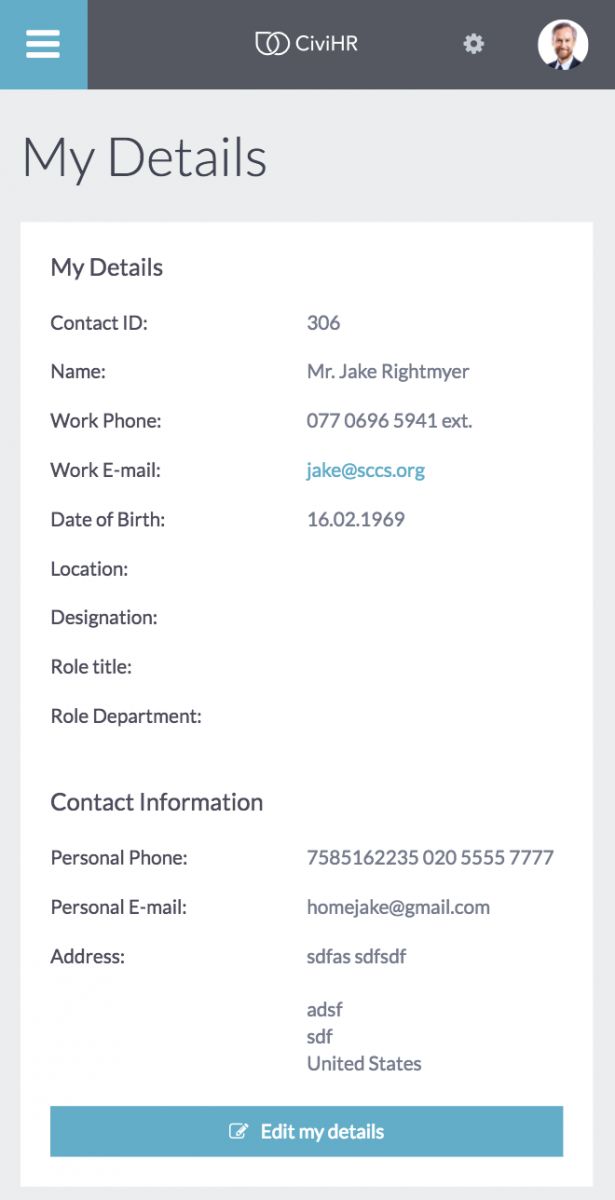 The self service portal has an easy to use onboarding wizard that welcomes new staff to the application and collects their basic details, saving you time in onboarding new staff.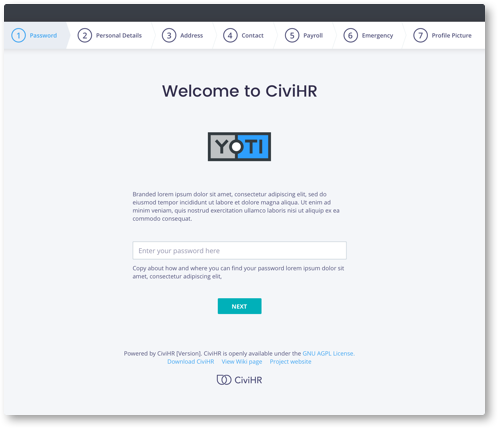 The front end follows the Shoreditch design, now with sharper colours and contrast that conform to WCAG guidelines.
Staff Profiles
These hold contract details, relevant documentation and other essential HR information for each member of staff. Job contracts and job roles are stored here, along with all personal details such as emergency contacts, bank details and career history. You can update job contracts for any change of terms such as pay rises or increased holiday allowances, and you can view a history of past revisions.
Leave
Staff can request Holidays, Sickness, Overtime and TOIL via the Self Service Portal, with requests specified in hours or days. You can update leave entitlement for staff and create different working patterns per contract. For example, if an organisation has two members of staff working to one FTE role, with one person in Monday-Wednesday, and the other working Thursday-Friday, these different working patterns can be recorded in the system and the appropriate leave entitlements automatically calculated for each person.
Tasks and Workflows
Tasks consist of individual actions, and multiple tasks can be grouped together as one workflow, similar to those used in CiviCase. Joining and Exiting workflows are built into the system by default so that these admin-heavy processes can be streamlined, with everything recorded in one place. Keep track of documents like passports and visas, store copies, and generate reminders of when they need to be renewed.
Reporting
We've made reporting data quick and simple, thanks to a pivot table design. Easily monitor headcount and leave, query the underlying data and summarise in a pivot table or chart. Create custom reports and save new configurations by dragging and dropping field labels to display results using colourful, engaging displays like heatmaps, bar charts or line graphs.
Self Service Portal
Staff can view their personal details and edit contact information for themselves and their emergency contacts. They can apply for leave, read policy documents, look up staff in the directory, and view any tasks assigned to them.
Looking forward to 2018:
So... how do we follow 2017? With bigger plans of course!
Our focus for 2018 is split two ways; the first priority is to improve the user experience. This means focussing on trying to make complex HR processes such as staff onboarding, leave carry forward, flexible working patterns etc as easy as possible. We want the system to be intuitive and to need minimal technical help to setup initially, but to be powerful for those who have complex needs. Our plans include:
Contact actions: scheduled for January, HR relevant actions will be added to the current available options. This means you'll be able to perform many more HR tasks without having to leave the Staff Profile screen.
Setup wizard: when HR Administrators login for the first time, the wizard will run through the main default settings for the site so that these can either be confirmed or changed to something more suitable.
Self service portal dashboard and improved directory: a new homepage for the self service portal which details your tasks and any manger leave requests with quick links to approvals. We'll also be looking at how we can make the staff directory easier to user with more useful information such as staff work patterns so you can see if the person you are contacting is in today!
and lots of other little tweaks to menus and administration....
The second priority is to add new features and to deepen the scope of the existing modules. That will include:
Payroll export: the ability to extract payroll relevant data from CiviHR in a form that could be sent to a payroll bureau for the processing of salaries and the generation of payslips.
Appraisals: manage the appraisal process via a new workflow that will be included in CiviHR by default. Keep track of what's been completed and by whom, and what's outstanding.
Recruitment: Developing the existing recruitment module to understand more about how teams work together to recruit, including team workflows and email automation, making it easier to deal with large numbers of applicants.

Find out more!
If you are interested to find out more about CiviHR then feel free to pop along to
http://civihr.org
. You can try out the demo at
http://civihr.org/demo
and we welcome organisations to signup for the public beta and start giving us feedback!
Thanks for reading!