Published
2020-08-30 14:46
Hi Everyone,
I am a 2020 student of Google Summer of Code (GSoC), https://summerofcode.withgoogle.com and have been contributing my time to the CiviCRM project.
I'm back with another post regarding my GSoC journey so far. This is my final week and I'm really glad that I made it till the end.
About my GSOC project
For my GSOC project, I further developed the Outlook 365 Extension, https://lab.civicrm.org/extensions/outlook365 initially developed by Jaap Jansma from CiviCoop, https://www.civicoop.org/
My GSoC mentor for this project has been Justin Freeman from Agileware, https://agileware.com.au
My GSOC goals and achievements

The Outlook 365 Extension enables CiviCRM users to connect their Outlook 365 address book to CiviCRM, showing CiviCRM contacts directly in Outlook 365.
My main focus of the project is to improve the user experience and add more useful functionality to the Outlook 365 Extension.
I created a fork of the original Outlook 365 Extension which has my work and it is available for review here, https://lab.civicrm.org/sarvesh21/outlook365
I developed the following new features:
Searching CiviCRM:

Search CiviCRM for contacts or groups.
Search for contacts within a CiviCRM group.

User Interface:

Improve the usability of the extension, more user friendly and better use of space.
Improve navigation between contacts, groups and settings.

Mailing Groups:

Ability to send email to all contacts in a mailing group.
Select contacts across different mailing groups.
Ability to CC or BCC email to one group while sending email to another group.

Saving Contacts:

Create CiviCRM contacts from the email recipients (To,CC,Sender).
Create multiple CiviCRM contacts with a single click.

Saving Contacts to Group:

Save multiple contacts to an existing group or create a new group in CiviCRM.

Saving Email as an Activity:

Store the current email in CiviCRM as an Activity and associate with the email recipients.
New features in Outlook365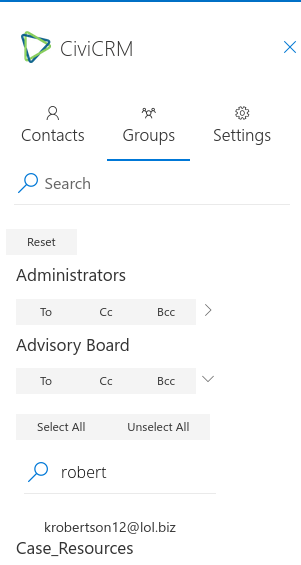 You can search for the groups from CiviCRM Address Book and you can also search inside the group.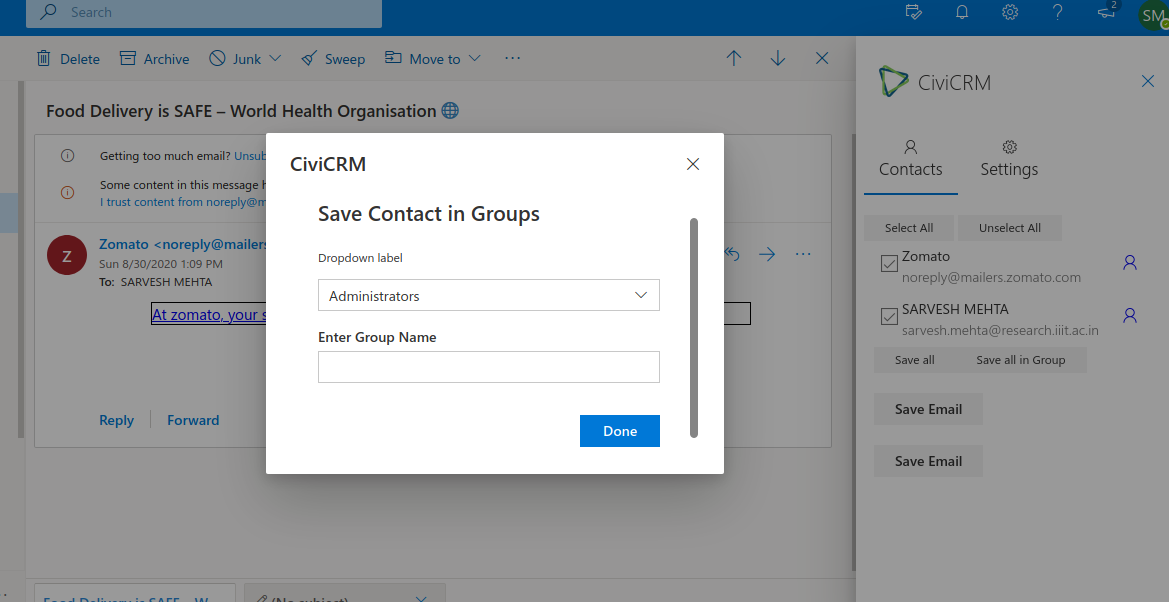 You can save the contacts in the email you are reading to a existing group and new group by specifying a group name.
Existing contacts in the CiviCRM are followed by a person icon that links to CiviCRM account page.
Advise for prospective GSoC 2021 students
My advice for you. Start preparing now. If you want to have a shot at being accepted, you don't need to wait until when Google announces accepted organisations. Also when applying, choose projects that seem to be a challenge for you. Don't ignore the project because of the skill set required, you can acquire sufficient skills during the bonding period. Stay active on community forums and interact with your mentors. Don't wait until the last moment.

Please review my work
You can review my work at https://lab.civicrm.org/sarvesh21/outlook365 and I hope to submit these changes back to Jaap Jansma for review and acceptance into the main Outlook 365 extension, https://lab.civicrm.org/extensions/outlook365
If you are using both CiviCRM and Outlook 365, then I hope you find my work both useful and productive for your use of CiviCRM and Outlook.

Comments
Hey Sarvesh, Thanks for your blog! And your work!