Published
2023-04-04 08:37
Let your contacts know that you are thinking of them on their special day. This is not only a nice gesture, but it contributes to member retention in the long term. Especially larger non-profit organizations can maintain the relationship with their member base this way.
To help you properly celebrate your members, employees and friends, we've tinkered with the Birthdays extension.
With the current version 1.5.0-alpha1 (March 2023), you can get upcoming birthday dates directly to your CiviCRM dashboard and – here's what's new: automatically send them personalized mailings on their birthdays! 🥳
You can support the development of the extension by testing the features:
Upcoming birthdays at a glance
With the Birthday extension, you can create a report of your contacts' upcoming birthdays.
Here's how it works:
Create a new report
Select the contact report template "Birthdays".
Select displayed data
Under "Columns", select the contact data that is relevant to you: e.g. name, date of birth, age, address....
Show report in dashboard
To have the list directly available when logging in, check "Available for dashboard" under "Access rights". Then you can add the birthday report to your CiviCRM dashboard.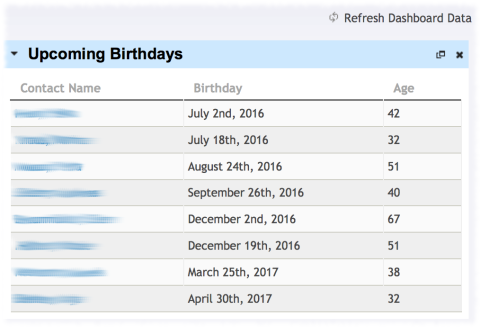 Personal birthday greetings via email
With version 1.5, the birthday extension for CiviCRM offers an interface for automatically sending birthday greetings via email.
Here's how:
Create new message template
Use tokens to add individual contact details like name or age to your mail template.
Add contacts
Add contacts who should receive birthday emails to the group "birthday greetings recipients".
Configure email sending
The Birthdays extension settings menu allows you to select the mail template and a sending address. You can find this menu in the "Administration">"Communication">"Birthday Settings" tab.
Add new scheduled task
Detailed instructions on how to configure and test the scheduled task can be found in the Birthdays extension settings menu.
Track activities
For all mailings, an activity is written in CiviCRM indicating whether the delivery was successful.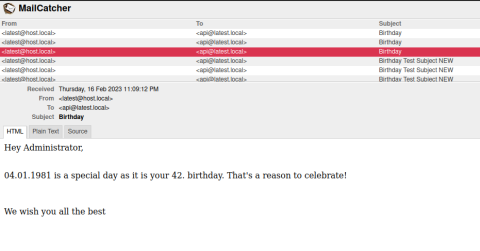 What else?
Found a bug? Ideas for new features? We would like to continue adding improvements and new features to the birthday extension. If you are interested in supporting further development through feedback or funding, feel free to email info@systopia.de.
Documentation