Thank you for blogging on civicrm.org! Check out the
blog policy
for more tips on how to better engage with the community.
Published
2017-10-12 04:30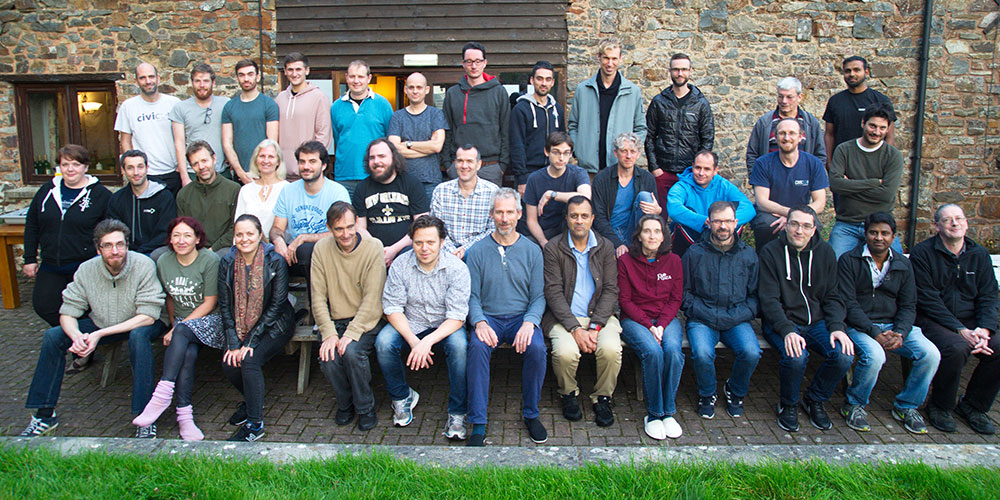 Following CiviCon London many of us made our way to Devon for the CiviSprint.
A group of around 40+ developers, installers and users gathered together for 6 days to work jointly on CiviCRM projects. By coming together in one place, we were able to move projects forward in a way that is challenging when everyone is scattered around the world and involved in their own work and family commitments. The overall aim being to take CiviCRM forward by sharing knowledge.
We arrived on Saturday and settled into our rooms in Duvale Priory near Bampton in Devon. Before dinner we gathered together for introductions – many of us were unknown to each other – or knew the names, but had not met before, and some of us were there for the first time. The organisers, Michael McAndrew of
Third Sector Design
and Oliver Gibson of
Northbridge Digital
then set about creating project groups who would work together on a given task over the next few days. We could choose our field of interest and we could also move from one group to another. It was formalised, but relaxed at the same time to give everyone an opportunity to contribute to CiviCRM and also to gain something for themselves.
The groups were:-
Accessibility
Campaign Extension Improvements
Changes to CiviCRM.org
Code Fixes
Documentation
Extension Dependencies
Extensions Review
Extension Testing
Review of European events
Other mini projects
In addition a 2 day CiviCRM Developer Training course took place at the sprint location. This was very successful with 9 attendees and great feedback.
Throughout the days, which were interspersed with magnificent meals cooked by Craig and presentations to the whole group on specific topics, individuals also took advantage of being together to network and ask questions on specific personal CiviCRM issues with someone who had already worked with it or indeed had developed the extension.
The whole atmosphere of the Sprint was friendly and relaxed and we felt immediately 'at home'. Discussions and 'work' continued well into the night for some. On Tuesday evening we had a BBQ – an amazing selection of foods marinated in a variety of sauces. The work rate in the kitchen on that day was incredible with spices and herbs mixed with a variety of ingredients to produce a feast for the BBQ, which we enjoyed outside. I should add here that every meal, including the BBQ, had options for meat-eaters, vegetarians, vegans and gluten-free.
It was not all work and no play! There were daily walks in the afternoon to get us away from the computer screen and out into the countryside (don't mention the cows!). And for the robust, yoga sessions before breakfast were on offer!
To say the Sprint was successful is an understatement and it was the biggest ever UK Sprint. On every front there was a positive outcome and I would recommend that if you are thinking of joining a CiviSprint in the future (https://civicrm.org/events)– don't hesitate! You will be made welcome – whatever your level of knowledge or experience and you will have a great and productive time.
Anne Smale