At the code sprint after CiviCon Denver, Tyrell Cook and I tackled some much-needed updates to Civi's wysiwyg system. A wysiwyg editor (what you see is what you get) is the mini word processor you use to compose emails, activities, notes, and other rich-text in CiviCRM forms. The old integration was written back in the days when CiviCRM wasn't so flexible (before extensions, or core resources) and aside from letting you pick between two editors, offered no other configuration options (e.g. to decide what buttons would be in the editor's toolbar). Plenty of room for improvement there, here's what we accomplished: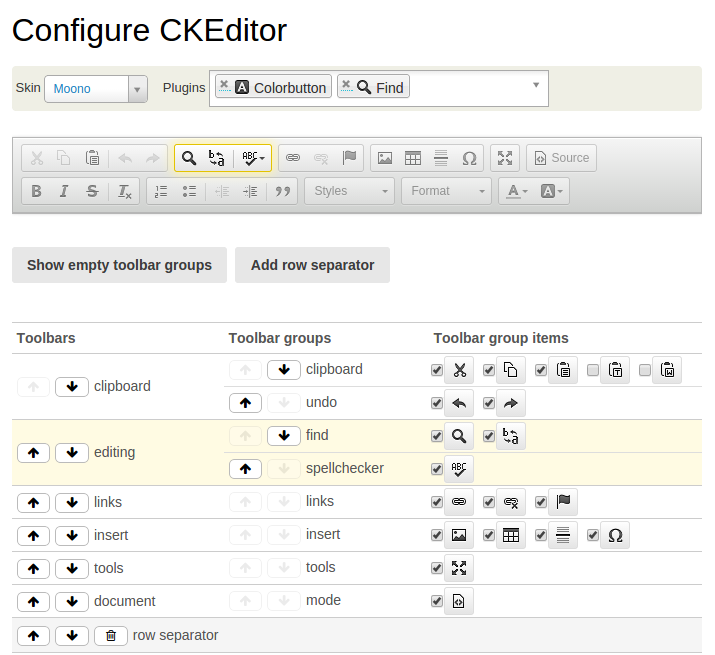 Configurable CKEditor
CKEditor is the most popular wysiwyg for the web and CiviCRM 4.7 now ships with the latest version. Better yet, I've just finished incorporating the new CK Configurator directly in CiviCRM and expanded it to allow selection of plugins and themes as well. It's pretty awesome if I say so myself, and you can take it out for a spin on the CiviCRM demo site. Under Administer -> Customize Data & Screens -> Display Preferences, click on Configure CKEditor and away you go.
TinyMCE in an Extension
Including more than one editor in the main CiviCRM download seemed excessive, so we moved TinyMCE into an extension, which you can download to keep using that editor in 4.7+. But we didn't stop there - the new wysiwyg framework in CiviCRM is totally extensible. Want to integrate a different editor? Just package it in an extension and off you go! (don't forget to share your work on the extensions directory).
No More Drupal/Joomla editor?
Ok, it's true, we got rid of the "Use Drupal/Joomla default editor" option. It was a maintanance headache for the core team and a pain for integrators too. I'm guessing that most reasons for using it had to do with configurability, which we've addressed with the CK Configurator, so maybe there isn't so much need for it anymore.
But that doesn't have to be the final word. If the Drupal or Joomla wysiwyg editor is a "must-have" feature for you, the code we removed could be easily added back into a module/extension. Want to help create or maintain that extension? Give me a shout on irc or email, or leave a comment below, and I'd be happy to help get you started.