Published
2019-07-11 14:09
PayPal now has a new, more modern interface for CiviCRM. Thanks to sponsorship from PayPal, CiviCRM offers "PayPal Checkout" (also referred to as "PayPal Smart Buttons" or "PayPal Smart Checkout").
The PayPal Checkout interface offers mobile-friendly payment buttons that vary according to available payment methods. Using PayPal Checkout means you can accept credit card details on your own site (in a modal window) without ever having them entered directly into the form on your site - which simplifies PCI compliance considerations. In addition, PayPal Checkout allows US users to pay using Venmo. Read more about PayPal Checkout.
The available payment buttons depend on the user's device. For example, Kevin in the US has a smartphone with Venmo installed and enabled -- in his screen, notice the addition of a "Venmo" button: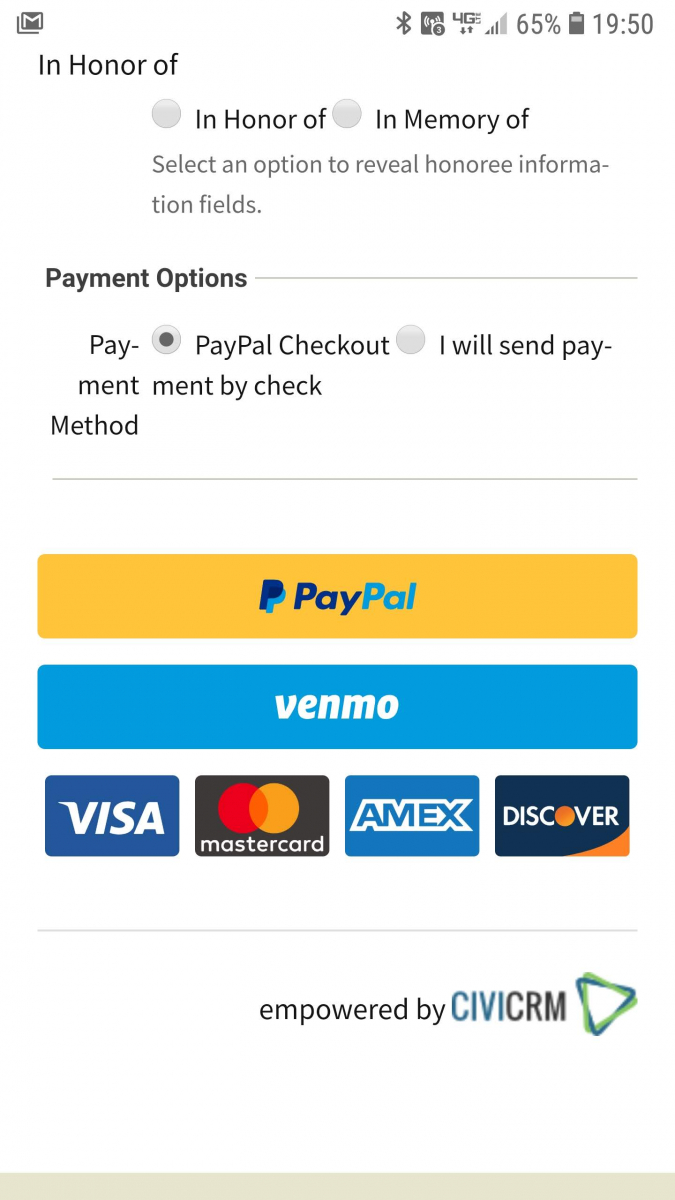 Compare that to my desktop in New Zealand - it doesn't support Venmo. The checkout screen shows only the standard "PayPal" button:

A further advantage of accepting PayPal payments is that recurring payments tend to "survive" a card expiring. I hit this myself a few months back when my credit card was cancelled after a fraud attempt. I had 2 regular payments to CiviCRM. A month later I only had one. The PayPal one was still going because I had updated my credit card within PayPal in order to make other payments, but the other one had not been updated - and it fell on Josh to identify this and follow up with me.
In order to get PayPal Checkout, you need to install version 3.5+ of the Omnipay extension - this should be available in the screen "Administer->System Settings->Extensions" under the "Add New" tab. Further documentation is available in the extension.
Comments
Thanks for everyone's work on making this improvement available to  CiviCRM users
Has this been validated when used in conjunction with membership renewal using a webform?
No - not as yet - webform is a bit funky with js injection from processors - it doesn't seem to respect the buildForm function. I'm nagging Coleman to take a look at that