A massive thank you to all the service providers (listed below) who signed up as founding partners and helped us exceed our fundraising goals for the partner program. In total, we raised $90,000 from 43 founding partners (our goal was $75,000) which is a fantastic step for the sustainabilty of the project and shows the strength and diversity of our service provider ecosystem.
Partners are still signing up and with a bit of luck, we'll hit $125,000 in recurring revenue each year for the project. If you deliver CiviCRM services, please do consider becoming a partner and helping us reach this new goal. Doing so would mean that we're raising approximately 25% of the revenue we need to sustain the project. So a good moment to take a step back and celebrate, but we still have a lot to do.
So what is next? As promised, we'll be digging deeper into how much it costs to run CiviCRM, and where your money goes. We'll also be formalising our sister program for 'active contributors'. And of course, we'll be launching the new partner listings and sending out details to founding partners to they can add these badges to your websites, etc.
Many thanks to everyone that contributed ideas and energy into the many partner program discussions we had,including to Erik Hommel (CiviCOOP), Paul Keogan (Backoffice Thinking), Peter Petrik (Skvare) and Chris Ward who helped with partner program concepts and pages, and to Stuart Wakeford (http://helloscw.com) who produced the great partner badges below.
Without further ado, here's a full list of our 43 CiviCRM founding partners.
Five sustaining partners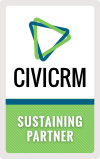 BackOffice Thinking, Giant Rabbit, NFP Services, Progressive Technology Project, Web Access.
Eighteen supporting partners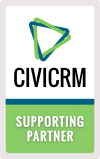 AGH Strategies, Blackfly Solutions, Circle Interactive, CiviCoop, CiviDesk, Community Builders, CompuCorp, Emphanos, FreeForm Solutions, Fuzion, Ixiam, JMA Consulting, Nexell GmbH, Skvare, Studio 136, Systopia, Veda Consulting, White Fuse Media.
Twenty associate partners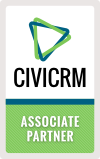 Bidon.ca, Chris Ward, CiviHosting, CiviSMTP, CiviTeacher, Fabriko, Greenleaf Advancement, Kilakwa Associates, Lighthouse Consulting & Design, MC3, Northbridge Digital, Orgis, Palantetech Coop, Pogstone, QualityTime Services Ltd, Software für Engagierte, Tadpole Collective, Target Integration, Tech to the People, Third Sector Design.