Published
2015-02-17 11:19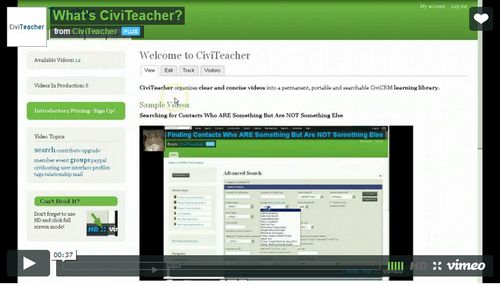 Some of you may have heard of CiviTeacher and watched some of the great training videos available on the site. I think it's an excellent resource that walks you through different CiviCRM tasks and features. It gives you access to easy to digest, short videos, which will help you to make the most of CiviCRM. The videos also share best practices and lessons learned that will save you time and headaches by helping you to set up things correctly in CiviCRM. I thought it would be great to know more about CiviTeacher and Stuart Gaston, who started CiviTeacher, so I emailed him to see if he would like to do a blog interview. Have more questions about CiviTeacher? Feel free to comment to share your questions.

1. Tell us a little about yourself.
I've been a CiviCRM consultant for seven years now, since version 2.0 beta. I got my start "working on the web" in 1998 and also spent a few years as an instructor teaching adults in the financial industry.

2. Can you share how, when and why you decided to start CiviTeacher?
After a few conversations with colleagues I finally reached the decision to go for it after talking with Michael McAndrew in the summer of 2013.

3. What are the most popular videos on CiviTeacher?
Surprisingly, Webform Integration. I did not expect this to be so popular. This powerful Drupal module is so flexible that people are dying to know how to adapt it to their needs like gift memberships, multiple user registration and more!

4. What are some things you love about CiviCRM?
Civi has low cost to maintain and usability right out of the gate. Sure, it can take a while to understand the more complex features, but searching, building contribution pages, and adding contacts is a snap.

5. What are some things you find challenging about CiviCRM?
I mostly have workflow gripes that understandably stay the way they are because money is tight for infrastructure improvements. For instance, I find re-arranging custom fields and profile fields with little arrows quite cumbersome. A drag and drop interface would do wonders. The event creation steps are rather clunky as well. The Core team has done great work in the last couple of years with UI improvements, improved reliability and bug-fixing that's made Civi much easier to promote as a solid solution.

6. What are some upcoming topics of videos you are working on?
I've just finished two videos on Importing Event Participants and CiviCampaign, which brings the total to sixty. I'm looking for more suggestions from my subscribers!

7. How can someone sign up, and how much does it cost?
You can sign up online with credit card or Paypal. It costs $15 USD/month with a recurring plan or $150 a year, and you can pay by check if you go yearly.

8. What are some future plans for Civiteacher?
Well having reached my goal of sixty videos I'm going to re-watch and edit many of them to include new features and the look of 4.6. Maintaining a library of that size to keep it fresh is not going to be easy but it's very necessary.