Published
2014-09-24 00:11
We are excited to announce the release of CiviHR 1.4 beta - a version that is all about increased usefulness of existing modules based on feedback from our valued nonprofit partners. A very special thank you to Katherine Causton from UK Youth, Jane Doughty from Farm Africa, Aparna Patil and Archana Bagra from SNEHA, and Bhavini Goswami and Amit Shah from AKRSPI for some great suggestions!
We also welcome Kathy Hill and Sandy Ellingson from Valley Rescue Mission, and Sari Becker from BCNDP into the family of early users of CiviHR, and look forward to working on their recommendations.
CiviHR 1.4 is compatible with CiviCRM 4.5. Please make sure to upgrade your CiviCRM to 4.5 before upgrading CiviHR to 1.4.
Significant Improvements
1. HR Managers can now save and access job contract documents from the Job summary screen.
2. The first role gets created automatically puling values such as actual working hours, pay and location. It is now possible to book the salary of an employee across multiple funders - a fairly common occurrence in organizations where the employee might be working on multiple projects/accounts at the same time. The proportion of pay sponsored by each funder gets auto-calculated.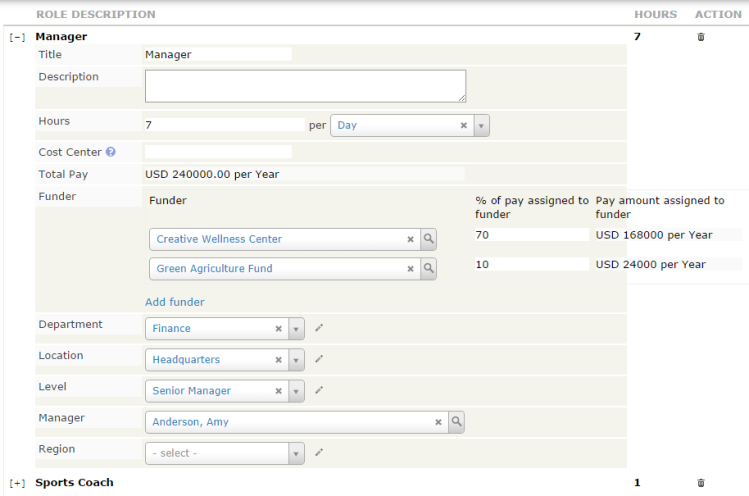 3. The funding screen gives a neat report of all funders that sponsor a person's salary, and in what proportion.
4. The Pay screen now includes the ability to add different Pay Scales applicable to the organization. The Full Time Equivalence calculation has been modified to correct rounding off errors for recurring decimals.
5. An employee can log in and apply for leave. This triggers appropriate email notifications to her/his Manager. The Manager can then log into CiviHR, and selectively approve or reject all or some days of leave. The employee will get an email notification and her/his leave entitlement will be updated.
6. The standard timeline for Joining, Exit, Probation and Appraisals now feature more detailed steps.
7. The process for adding new evaluation criteria, fields in the online application form and emergency contacts now has fewer screen transitions and mouse clicks.
8. CiviHR 1.4 includes three improved reports. The Current Employees Report lists all employees that have a joining date and no job termination date. Job Detail Report lists contacts with one or more active jobs. The Direcory lists the contact information of all current employees.
Installing or Upgrading to 1.4 beta1
Feedback, Issues and Bugs
We have some way to go before CiviHR is perfect, and we need your feedback to shape it into a product that is extremely useful for you. Please post your questions or details of issues under CiviHR in the
Community Forum
.