We in NFPservies have some client using secure.worldpay as their payment processor and it was always an issue in making it work and now worldpay has introduced online.worldpay gateway with API reference which are easy and quicker than before
Earlier in secure.worldpay gateway we used to redirect from CiviCRM to secure.worldpay website and process all the card details and then it will be passed over to CiviCRM website and we process the details. But, in online.worldpay we are using API for creating Tokens and Card Authorize. so no more redirection. Also the processes is straight forward and quicker
REQUIREMENT
This Extension is based on online.worldpay.com - https://online.worldpay.com/
Please make sure you have an account with https://online.worldpay.com/
INSTALLATION INSTRUCTIONS
To install the uk.co.nfpservice....
Read more
Cividesk is offering two NEW on-line classes in November designed for more advanced users of CiviCRM.  Each class is two hours long and class size is kept small to allow for questions.
"Customize your database with Custom Fields and Profiles" on November 12th will focus on creating custom data sets for different record types, configuring the related settings and choosing the best field types for your data.  We will also focus on the many uses of profiles in CiviCRM and how to create profiles for on-line pages, a membership directory and a petition.  
"Managing a Fundraising Campaign with CiviCRM" on November 19th is a project oriented class that will take you through all the necessary steps for preparing a successful campaign. We will cover preparing data for the campaign outreach, creating an effective online...
Read more
Your CiviCRM installation may have undead contacts.  Contacts are marked as deceased in CiviCRM by setting the is_deceased column to 1; living contacts are marked with 0.  However, it's possible for import mistakes to cause contacts to have a value of null for is_deceased.  The result is that the contacts don't appear as dead when you view them, but they're excluded from mailings and other features that filter on is_deceased = 0.  The same goes for Do not mail, Do not email, and so forth.
A recent question on StackExchange, along with the Halloween holiday, prompted me to write an extension that checks your system for zombies.  It uses the new Status Messages page to display a notice with the fields with an inappropriate null value:
...
Read more
by Zak Rogoff, campaigns manager, Free Software Foundation. Follow Zak on GNU Social or Twitter.
The Free Software Foundation's mission is to promote and defend free software and build a strong movement for computer user freedom. I do communications at the Foundation, and a majority of my work relies on CiviCRM. I'm a Civi power user and know the software intimately (at least the set of extensions we use), so it was exciting to meet the faces behind the software at the User Summit in September. Here are some things I wanted to share with the CiviCRM community:
FSF <3 CiviCRM
Before CiviCRM existed, the FSF had a listing in our High Priority Projects list calling for someone to develop a free CRM. In 2010, we started using CiviCRM, checked the CRM entry off the...
Read more
Salvation Army Echelon, the official young adult auxiliary of The Salvation Army, is the product of an idea that began in Dallas, Texas in 2010. Echelon is the next generation of community action for the Salvation Army. Men and women age 21 to 35 engage in networking, fundraising and community service in chapters across the U.S.
After the network of chapters expanded from one club in Dallas to several clubs across the nation, Salvation Army Echelon wanted a solution to house the chapters under one umbrella while allowing each club to customize their own site. They chose Skvare based on their expertise in CiviCRM and the added benefit of having all web-related services - web development, hosting and maintenance - provided by one company.
Angie Harmon, Chair of PR & Communications of the Echelon Peoria Advisory Board says,...
Read more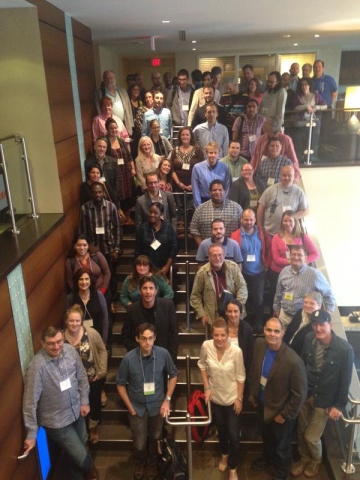 Fresh off my first User Summit and I had some thoughts...
So yeah, I've been pretty active on the old CiviCRM forums and even more active on the new Stack Exchange setup.  I've successfully submitted three pull requests thanks to Coleman.  I've written a couple of blog posts.  I've set up a Make it Happen campaign.  My organization even made a donation to CiviCRM for all they have done for us over the years.  All the while, I've leaned on the...
Read more
Sponsored By -
We are happy to announce that we have introduced CiviCase functionality in Outlook For CiviCRM, wherein a user would be able to file an email as case activity against CiviCase.
Features:
New OutlookForCiviCRM setting added "prompt for case". When enabled, civicase functionality becomes accessible to user.

...
Read more
You are a current CiviCRM user and you would like to learn more about a particular feature, attend a CiviTip hosted by Cividesk.
CiviTips are short webinars of 1/2 hour offered weekly designed to educate existing CiviCRM users about tips, best practices and how-to's on a particular CiviCRM functional area.

Either you have missed a training class for your organization or you want a refresh on a specific functionality, you should attend a CiviTip.
Upcoming topics include: Groups vs Tags, exporting data, update records in a batch, how to use CiviMail, Deduping & Merging, etc ...
Click here for more information on topics covered or to get registered for the upcoming CiviTips.
Questions? Contact Virginie at virginie@cividesk.com.
Read more