If you're not already aware, CiviCRM version 5.13 shipped this past Wednesday. In addition to this being the normal monthly release of the latest stable version of CiviCRM, it will also serve as the next version of CiviCRM ESR, officially in August. Finally, CiviCRM version 5.13 will be the last version of CiviCRM to support PHP 5.6.
There's a lot here to digest, so let's break it down with a few questions.
Will the current version of ESR be supported until August?
Yes. Originally slated for 6 months of support, ESR version 5.7 will continue to receive security and critical fixes up until the release of 5.13 ESR. After August 2019, version 5.7 will be sunset.
Will PHP 5.6 continue to work on versions of CiviCRM beyond 5.13?
Possibly, however it will no longer be supported by CiviCRM. That...
Read more
CiviCRM Users by Version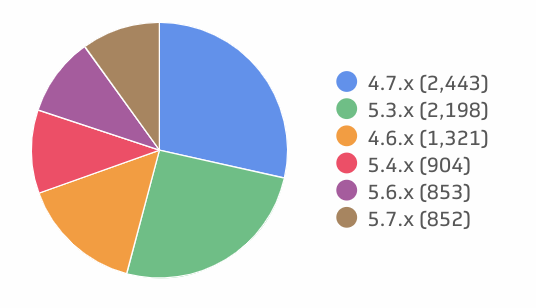 CiviCRM version 5.8 will ship soon and,
as we indicated previously
, version 5.7 will continue on as 'Extended Security Release (ESR)'. What does this mean for anyone not using the latest stable version of CiviCRM (i.e. the monthly upgrades)? For users on CiviCRM 4.6 and 4.7, it means that these versions will no longer be officially supported. Or, in not so technical speak, "end of life". So, for those 3,700 +/- organizations using 4.6 or 4.7, now would be a good time to either upgrade to the
latest stable version
, or
subscribe to ESR
and upgrade to version 5.7....
Read more
The first Wednesday of the month is an important day for the CiviCRM community. It's the day where a new, scheduled monthly release drops. These normally include bug fixes, minor features changes and improvements. Nothing earth shattering (hopefully). Upgrades are typically routine and easy. For many, this is a fairly painless process to manage, especially as the ease of upgrade and release reliability have improved over the years. 
For others, the pace of upgrades may be too fast. Or perhaps they have customizations that might break, and the stress of upgrading keeps them up at night. Whatever the reason, it's always possible to maintain an older version of CiviCRM. But that also requires technical skill and time. As a solution, the community supported an LTS version (long term support) for many years. The last LTS is 4.6 and, well, it's slowly going away. So, now what do we do for organizations that don't want to upgrade every month?
...
Read more