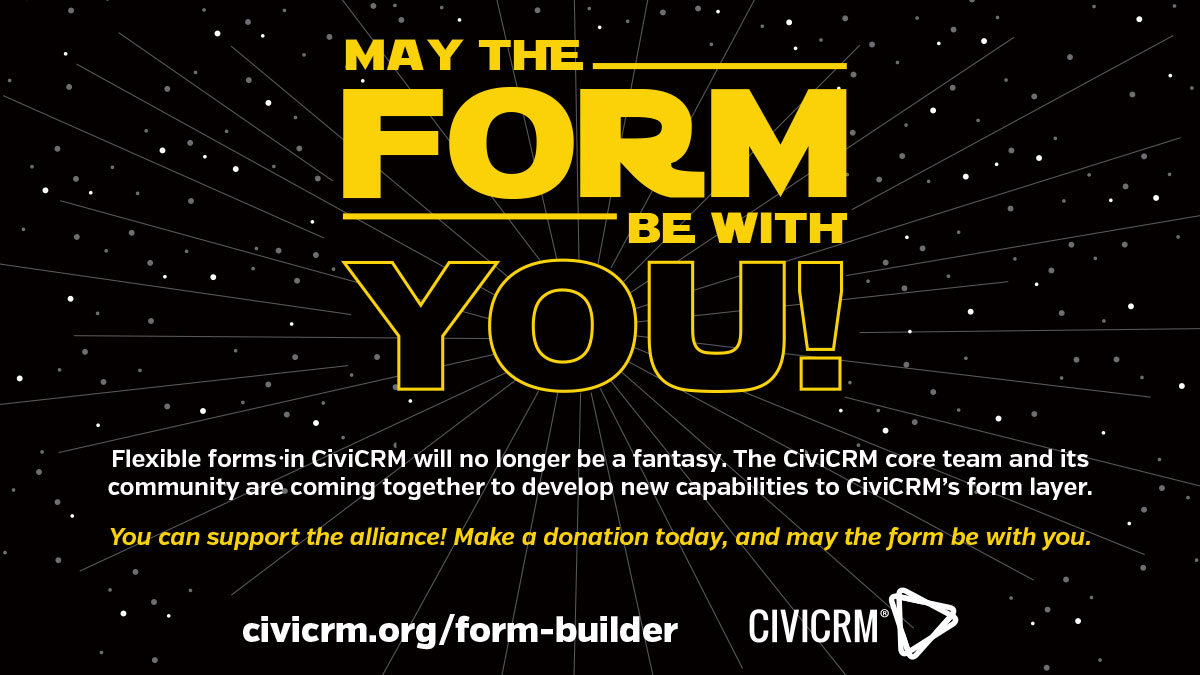 The CiviCRM Core Team is pleased to announce that work has started on a powerful, native form builder for CiviCRM. Long identified as a key piece of functionality, the native form builder made it officially to the roadmap in 2015. 3 years and a lot of discussion later, and we're under way! Why so long? Because this is a big undertaking with even bigger implications.
Imagine a CiviCRM that allows you to build forms on the fly, mixing and matching fields and functionality like a Jedi master, serving up beautiful forms with a ton of flexibility faster than Darth Vader can say "Luke, I'm your father". 
Add a form to your website where people can sign up for your email list (or any other Civi groups)
Easily collect feedback from your event participants
Send a robust questionnaire to your members
Create a form where people can enter their own information PLUS related contacts
The CiviCRM galaxy will be forever changed as the Core Team learns the ways of the form. Gone will be the days of empirial inflexibility and enforced regimentation. You can support the rebellion and help to bring order to the galaxy by making a contribution today. May the form be with you!
This make it happen campaign is the first in a series to revolutionize CiviCRM's capability to build and manage online forms. The result will be a working prototype with very limited functionality. The objective is to establish a proof of concept such that users of CiviCRM can see its potential and help shape its functionality and its progress through contributions and financial donations.
Like all major pieces of functionality, this form builder will not happen without a significant community investment. If you have questions or wish to make a pledge, contact Josh at josh@civicrm.org.