Published
2022-05-18 00:36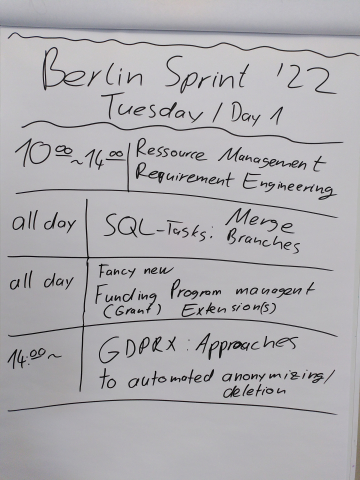 As ancient tradition has it after the Camp is before the sprint.
Yesterday we had the first day of the CiviCRM Sprint which takes place in Berlin's hipster heartland between Friedrichshain and Kreuzberg. Almost 20 people showed up to work on a number of extensions and other issues and most of them also honed their ping pong skills in one of the several ping pong pubs (yes, it's a thing).
We planned the next phase for the the new extension for managing volunteers and physical resources - which will have a focus on online integration and "self-service-portals" for volunteers. Requirement engineering was also going on for a new planned extensions that will allow to manage complex grant applications.
The discusssion on how to simplifi implementation of GDPR requirements building up on existing extensions is still going on and will hopefully yield some best practices or "cookbook recipes" later during this week.
Finally, merging a branch of the SQL-Task extension that was developed by Greenpeace Central Europe can hopefully be completed today. As even the current version provides very powerful features for all kinds of automated tasks, reports and much more I am very eager to learn what the new version will be able to do.