Published
2020-05-06 03:07
The latest version of CiviMobile 5.0 has pointed out a totally new direction for app development by introducing CiviMobile Public Area. For nonprofits it opened one more interaction channel with new opportunities to raise the organization profile among unregistered users, engage members, fundraisers, volunteers, supporters, enthusiasts etc.
Public Area Use Cases
When settings in CMS are configured and Public Area activated, unregistered users who have no access to CiviCRM may use CiviMobile in public view mode to perform the following activities:
Register on the organization's CiviCRM website from the mobile app to participate in the public life of the selected nonprofit organization in support of civic initiatives.
View a list of events marked as public with access to such details as event description, start/end date, participants, contact email, address, Google map location.
Register for the selected public event and receive a ticket with QR code
View organization news
News in Public Area
In view of the community needs CiviMobile team tries to meet and do it timely, we didn't lose focus on that direction and in this release Public area use cases welcome a new one, public access to organization news updates from CiviMobile app.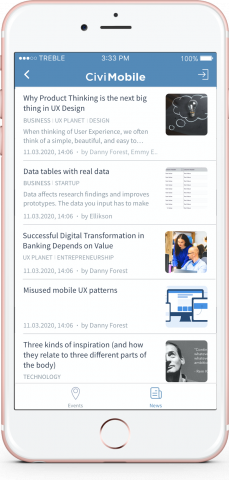 From now on not only do unregistered users get supported with much simplified registration process, engaged with open access to all public events, but they are kept informed about the organization initiatives with RSS news feed. This helps prospects deal with uncertainty and make the right decision.
News Feed for Registered Users
For organization constituents the feature is equally beneficial. Instead of repeatedly checking the website or blog pages to stay current on news updates, users will view news RSS feed with all new content directly in CiviMobile app. Quite comfortable for users and one of the effective ways to build audience for your organization website.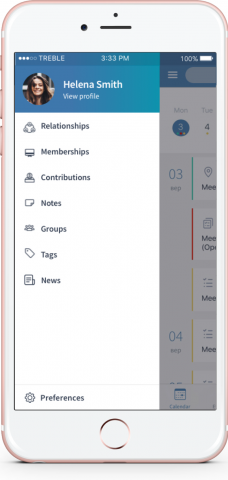 How it Works
RSS news feed is a web feed configured to deliver the basic information as a list of news updates presented in order from newest to oldest. Each item on the list will include a title with a more complete description. Sometimes the description contains full information; at other times it's just a summary that requires user to follow a link to a web page with more detailed information. Additionally, the news list will display tags, publishing date, author's name and image if available in RSS feed.
To have CiviMobile app act as a feed reader, the functionality has to be enabled through CiviMobile Settings page (please see Pic. 3 below). The process is simple and will take few short steps:
Go to News section and check the box "Show News" to enable news feed
Enter RSS Feed URL into next field. That's it!
In case your news feed is generated by the same CMS where CiviCRM is installed then CiviMobileAPI extension will try to fetch RSS URL automatically. You just need to press the button "Set Default RSS feed on CMS" next to "RSS feed URL" field.
If you would like to use news feed from another web server then it's necessary to enter the URL manually. In most cases it means typing in default RSS feed URL which depends on CMS. Default RSS feed URLs for the most popular CMS are:
WordPress – <your_website_URL>/feed/ (for example, https://civimobile.org/feed/)
Drupal – <your_website_URL>/rss.xml/ (for example, https://civicrm.org/rss.xml/)
You can read more about finding RSS feed URL at the RSS site https://rss.com/blog/find-rss-feed/.
In case you intend to make News also publicly available then please go to CiviMobile Settings page and make sure the box "Show Public Area" is checked to allow anonymous users access to public information.
After the connection to the server has been established, users will see newly added content to the website, RSS feed URL of which was indicated.
Among other improvements, in this release we present to CiviMobile community a new left-side menu as shown in Pic. 2 above. It helps to organize the functionality in a more convenient and user-friendly way.
Since user requests keep pouring in, CiviMobile team has much more planned to help organizations engage wider audience and improve user experience overall. Stay with us to catch up on upcoming updates on public petitions, donations, extended event functionality, in-app purchasing etc.
Source: https://civimobile.org/organization-news-made-public-with-civimobile-5-1-feed-reader/