Published
2021-09-16 06:15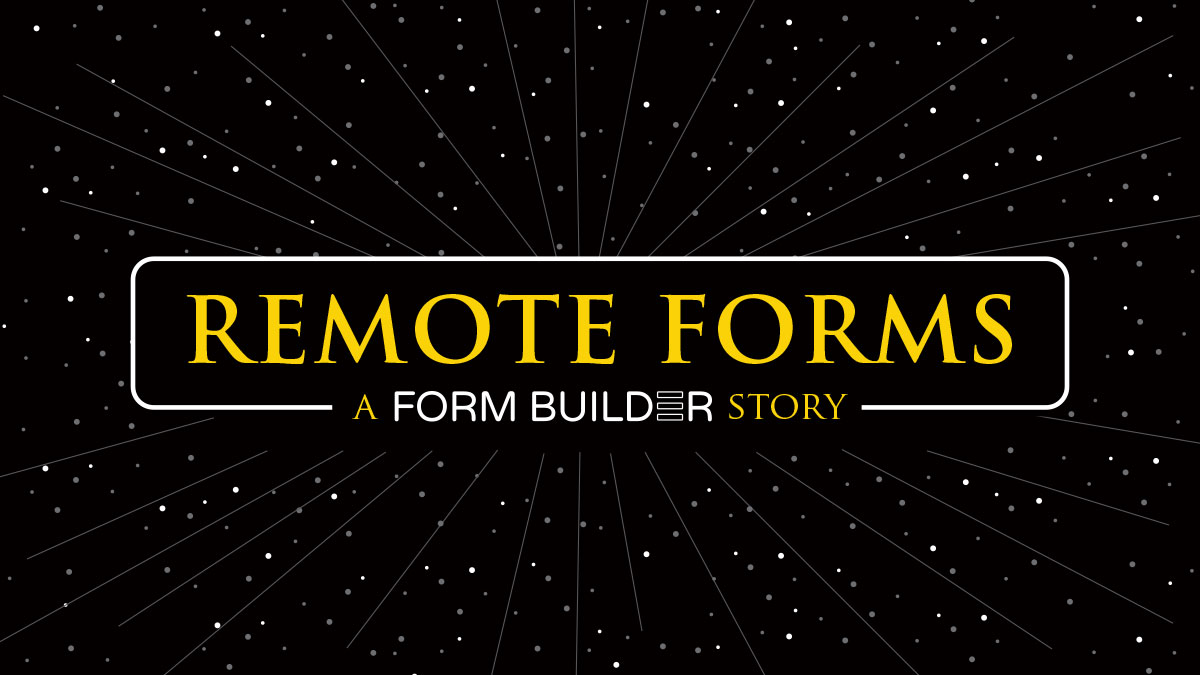 Now shipping in core, Form Builder, along with its powerful new ally SearchKit, is pushing the limits of capturing, managing and leveraging data in CiviCRM. The empire of inflexibility is on the run as Form Builder moves into support for remote forms, thereby allowing rebel forces to easily capture data with forms embedded in remote websites in a safe and secure manner.
This latest effort represents a big milestone for Form Builder and will open up additional opportunites for enhanced functionality both in Form Builder and in CiviCRM as a whole. If you have not yet supported Form Builder, now would be a great time to help the Core Team as we push CiviCRM to new limits!
Let by two young Jedis, Tim Otten and Coleman Watts, Form Builder brings a new hope for CiviCRM. Join the rebellion today by making a donation to Form Builder. And may the form be with you!
About Form Builder
Long identified as a key piece of functionality, the native form builder made it officially to the roadmap in 2015. After an epic trilogy of development, we now have a working drag-n-drop app which builds forms for Contacts along with their addresses, emails, phones, and activities. With continued support and funding we'll be expanding this universe to include relationships, events, contributions, and more!
Form Builder is a big undertaking with even bigger implications, and revolutionizes CiviCRM's capability to build and manage online forms. Progress will be released incrementally over time, and support for this initiative will be needed on an ongoing basis.
Like all major pieces of functionality, this form builder can't happen without a significant community investment. If you have questions or wish to make a pledge, contact Josh at josh@civicrm.org.
Form Builder - Episode III: Rise of the GUI
Episode III was focused on replacing core screens such as the 'Add/Edit Contact' and to release a stable, powerful extension so that users can begin to fully realize the power of the Form Builder.
Prosper Australia
Andy Burns
Form Builder - Episode II: A New Push - Backers
The release of the alpha GUI extension is here because to the following supports. Huge thanks to you for supporting Form Builder!
Ayyoub Ajmi
Josh Gowans
Camp Cooinda Inc.
Ruta Civica
Rigpa Fellowship
Mike Parsons
Academic Games League of America
Keith Nunn
National Democratic Institute
Greenpeace in Zentral-und Osteuropa
Third Sun Productions
Craig Luchtefeld
Form Builder - Episode I: Prototype - Backers
Form Builder is where it is today thanks to those that made the investment in an initial prototype. Huge thanks to you for supporting Form Builder!
Kingston Chamber Music Festival
Eileen McNaughton
Iantha Scheiwe
Concordia Welfare & Education Foundation
Delmonico, Betsy
Romdahl, Paal Joachim
Camp Cooinda
Chabad Suite
Gowans, Joshua
Walpole, Benjamin
Tisza, Gergo
Gleeson, Jack
Toolan, Charlotte
Western Friend
Academic Games League of America
Van Der Giessen, Elijah
Woodward, Matt
Ajmi, Ayyoub
Faitout, Boris
West, Andrew