Even animals benefit from CiviCRM!
Pets Alive
Pets Alive is a no-kill animal rescue organization with the mission to improve the lives of companion animals through rescue, adoption, advocacy, collaboration, intervention and education. The ability to effectively manage donations and communicate with the Pets Alive supporters has been essential to fulfilling this mission. CiviCRM serves as the right tool to help Pets Alive accomplish their ultimate goal of building, supporting and helping to sustain no-kill communities beyond their local territory.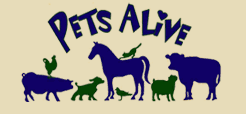 Background
The ability to effectively manage donations and communicate with the Pet's Alive supporters is essential to fulfilling the mission of our organization.
Challenges
Pets Alive began using CiviCRM to manage their data around 2010. However, when the volunteer who managed the database left the organization, several years passed without any direct management or updates to their CiviCRM. This resulted in the system no longer being effective or beneficial to the organization. In order to continue with CiviCRM, upgrade and on-going support were required so that Pets Alive could resume tracking donor data and grow the organization. 
As funding was needed to accomplish this project Pets Alive applied for a community grant to put toward new technology.
Solution
Pets Alive had been successfully using CiviCRM in the past so they already knew it was a good fit. However, when faced with the choice of upgrading or switching systems entirely, they researched many other donor management and CRM databases before making the decision to continue with CiviCRM. They found that it was less expensive to stay with open-source CiviCRM and pay for monthly support from a service provider who could also manage the upgrade than to switch to another system. Additionally, long term plans for Pets Alive include updating their website to WordPress and they will be able to integrate CiviCRM into the new site to streamline and facilitate future event and contribution management.
Functionality
Pets Alive manages only contacts and contributions in CiviCRM at this point, but looks forward to using other features soon since the organization will be updating their website to WordPress with funds from another grant and will have CiviCRM integrated into the new WordPress website.
The database serves as a repository for all donations made to Pets Alive. In addition, the Reports feature has also been great for generating financial reports using templates to track donations and interaction with donors. Plus, following up with donors has been simplified by sending out thank you letters using CiviMail or printed PDF hardcopy letters for those without email addresses; a feature they really appreciate since not all donors have an email address.
There are still many features in CiviCRM that Pets Alive has not yet explored, specifically the Event module. The organization hosts many events during the year and currently uses Constant Contact to promote them. Pets Alive looks forward to creating online event pages and registration in CiviCRM, and also adding an online donation page that will allow them to easily take donations on the website and have the data recorded directly in CiviCRM.
Cividesk provides affordable CiviCRM services for nonprofit organizations including implementation, training, data import, hosting, maintenance and support.  We are headquartered in Denver but also have a presence in India in order to best support our customers in various time zones and to answer our customer's needs for software development and customizations.
Cividesk was founded in 2011 on the premises that CiviCRM users will need on-going support and best practices sharing to fully realize the potential of this incredibly rich software. Over the years Cividesk has grown to become one of the leading Software-as-a-Service providers for CiviCRM. We do have customers in more than 25 countries or states around the world, spanning all types of nonprofit organizations – charitable, humanitarian, advocacy, religious, political, governmental and trade-oriented.
We provide you with a fully configured CiviCRM, take care of all the technology behind the scenes, and are always available to answer any questions you might have. No surprises: hosting, maintenance, mentoring and unlimited customer support are bundled into a fixed monthly subscription so you can budget your expenses in advance.